Euroleague to witness Gala's & F.Bahçe's shining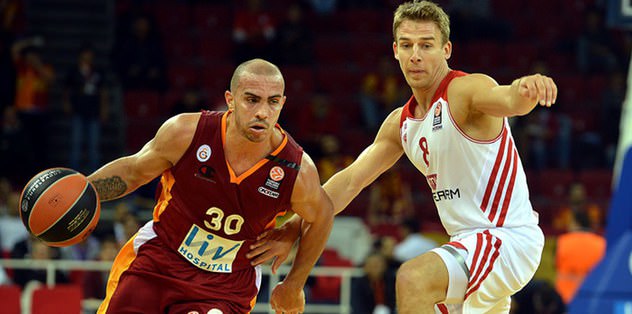 Fenerbahçe Ülker made it five wins in as many Turkish Airlines Euroleague matches to cement its lead in tough Group A, Galatasaray Liv Hospital defeated Germany's Bayern Munich, while Anatolia Efes was crushed by Spanish powerhouse Real Madrid.
Fenerbahçe Ülker maintained its perfect record with a win over French champions JSF Nanterre and Galatasaray Liv Hospital triumphed over Germany's Bayern Munich, while Anadolu Efes received a humiliating defeat against Spanish giant Real Madrid in game five of the topflight Turkish Airlines Euroleague.
Serbian coach Zeljko Obradovic's men have gotten off to a good start in the Euroleague season. Fenerbahçe leads Group A without a single defeat in the first five games ahead of prestigious European clubs FC Barcelona and CSKA Moscow -- both with three wins and two losses.
In Thursday's game against the French side, Croatian shooting guard Bojan Bogdanovica of Fenerbahçe contributed the most to his side's 83-66 victory with 20 points in front of his home crowd. He currently leads the list of Euroleague top scorers with an average of 20.20 points in the topflight tournament. US playmaker Scotty Hopson from Turkish side Anadolu Efes is the third top scorer of the competition with an average of 16.80.
Bogdanovica missed Saturday's domestic league game against Türk Telekom due to a right Achilles tendon injury which occurred during the Nanterre match. The club's doctor said in a recent statement that the guard is likely to be ready for the next Euroleague campaign against Budivelnik Kiev on Friday.
Galatasaray defies injuries
Elsewhere, injury-stricken Galatasaray Liv Hospital proved its credentials in Europe's elite basketball tournament with an 84-74 victory over Bayern Munich on its home court on Friday. British power forward Pops Mensah Bonsu shone, recording a double-double with 19 points and 13 rebounds. Carlos Arroyo added 18 points for his side's victory.
Coach Ergin Ataman said following the game that the win was important to realize his team's aspirations for the upper stages of the Euroleague. The İstanbul side is tied on points with the Germans in Group C with both teams following unbeaten leader Olympiakos Piraeus with three wins and two defeats.
Four of the team's regulars missed out on action in last week's game. Ersin Dağlı and Jamont Gordon joined Nathan Jawai and Manuchar Markoishvili, who have long been sidelined due to injuries, adding to the team's casualty list.
Coach Ataman was very upset due to his players' sluggish performance against Türk Telekom on Monday in the previous domestic league game, which Galatasaray eventually lost. At one point during the match he sat silently on the bench in protest during a break towards the end instead of discussing the game plan with the players. He seemed happier after the Bayern Munich victory, though. Galatasaray is set to host Montepaschi Siena on Thursday.
Efes down but not out
The flop of the week was, undisputedly, Anadolu Efes, which lost 57-103 to undefeated leader Real Madrid in their Group B encounter in Madrid on Wednesday. The lackluster İstanbul side was out of form throughout the game, allowing the hosts to impress its fans and extend the difference to 46 in the fourth quarter. Efes coach Oktay Mahmuti said after the game that he had never been that embarrassed as he was after the Real Madrid match. He noted that the performance of his team could not be justified by any means.
"It would be the easiest thing to blame the players. But it was my responsibility get them ready for this match. We thought we had prepared well," Mahmuti said.
The intimidating defeat does not do justice to Efes's overall performance in the competition, though. The İstanbul side won three games and lost two, placing third with EA7 Emporio Armani of Italy with the same points. Efes heads to Italy to face the Italian team and reclaim second spot in the group on Friday.