Warriors beat Cavaliers, even NBA Finals at 2-2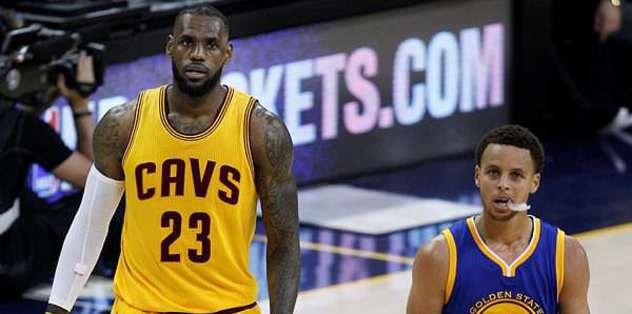 Stephen Curry and Andre Iguodala lead Warriors to tie NBA Finals series at two games apiece
The Golden State Warriors beat the Cleveland Cavaliers 103-82 at the Quicken Loans Arena to tie the NBA Finals series at 2-2 Thursday night.
The league MVP Stephen Curry had 22 points and had 4-7 three-point shooting night. Andre Iguodala, who started for the first time this season also scored also 22 points for the Warriors' Game 4 win.
Forward Draymond Green chipped in with 17 points, 7 rebounds and 6 assists in the crucial win for the Warriors, which kept them from trailing 3-1 in the series.
No team in such a situation in the NBA Finals ever came back to win the series.
Cleveland's Lebron James, who was averaging 41.0 points 12.0 rebounds and 8.3 assists in the first three Finals games, scored only 20 points in Game 4 on a 7-22 shooting night.
Australian point guard Matthew Dellavedova, who had excellent Games 2 and 3 for the Cavaliers, scored only 10 points on 3-14 shooting and made 4 assists.
Game 5 will be played on the Warriors' home court at the Oracle Arena in Oakland on Sunday at 8 p.m. eastern time (0000GMT Monday).