Karsiyaka beats Efes, takes 2-1 lead in playoff finals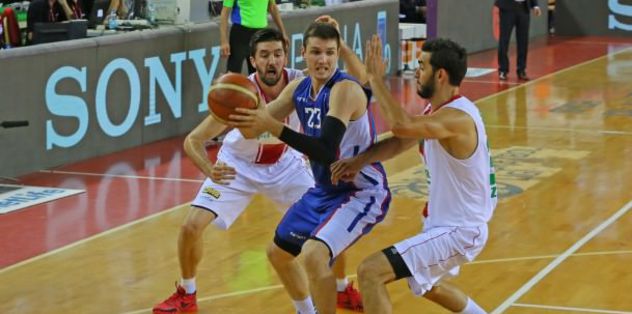 Pinar Karsiyaka has beaten Anadolu Efes 71-65 and gains advantage in Turkish Basketball League Spor Toto Playoff Finals series
Pinar Karsiyaka beat Anadolu Efes 71-65 Sunday to take 2-1 lead in Turkish Basketball League Spor Toto Playoff Finals series.
Playing at homeground in Izmir, Pinar Karsiyaka started the game hot from the three point line and and took a 9-6 lead with 7 minutes to go in the first quarter. However, Anadolu Efes did not let the home team increase the gap and the first period ended all even at 18.
The second period saw Anadolu Efes more disciplined and despite Pinar Karsiyaka's 30-25 lead with 5 minutes to go in the quarter, the away team pulled off a 10-0 run to go to the locker room at the half with a four point lead, 39-35.
In the third quarter, Pinar Karsiyaka found easy baskets with their shooting guard Eugene "DJ" Strawberry and finished the quarter 55-51 ahead. Anadolu Efes struggled in the third period, they were limited to only 12 points.
In the deciding quarter, Strawberry scored 9 points to hold his team in the lead and Pinar Karsiyaka did not let Anadolu Efes snatch a victory in their home ground, winning the game 71-65 and took 2-1 lead in the finals series.
Strawberry scored a game-high 26 points for Pinar Karsiyaka, and their point-guard Robert Lee "Bobby" Dixon scored 14 points in the victory. Power-Forward Juan Palacios chipped in with 9 points and 10 rebounds as well.
For Anadolu Efes, Center Dario Saric's 13 points and 11 rebounds; and Power-Forward Stephane Lasme's 10 points and 7 rebounds were not enough. Anadolu Efes were only 7-26 from the three point line and they found only 6 points from the free-throw-line, comparing to Pinar Karsiyaka's 20 points in 28 tries.
The fourth game will be played again in Pinar Karsiyaka's homeground in Izmir on Tuesday at 8 p.m. Turkish local time (1700 GMT).