Olympiacos clinch Greek league victory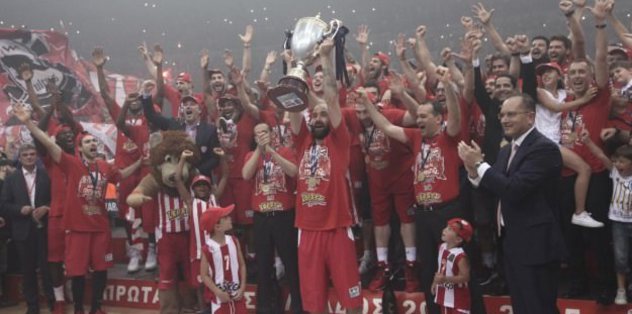 Olympiacos sweep archrivals Panathinaikos, avenging last year's loss against them at finals
Olympiacos have been crowned Greek Basketball League champions by beating archrivals Panathinaikos 93-74 in the third game of the playoff finals on Sunday evening.
Winning the first two games of the finals, Olympiacos toppled Panathinaikos in the third game at Peace and Friendship Stadium.
Olympiacos star playmaker guard Vassilis Spanoulis shone out in the third game as he scored 23 points and made five assists. Greek power forward Georgios Printezis, Belgian shooting guard Matt Lojeski and US power forward Othello Hunter reached double digits in points.
Panathinaikos' Greek small forward Vlantimir Giankovits was the top scorer of his team, he poured with 17 points. Greek center Loukas Mavrokefalidis scored 14, Antonis Fotsis hit 11, US shooting guard A. J. Slaughter and Uruguayan center Esteban Batista scored 10 points each however their efforts were not enough to win the game.
Olympiacos won the Greek Basketball League for the 11th time in history. Last season Panathinaikos became champions by winning against Olympiacos 3-2 in the finals.
Panathinaikos are the most time winners of the Greek Basketball League with 34 titles in total. Olympiacos have 11 titles and Aris come in third with 10 titles.