Pinar Karsiyaka wins 2014-15 Turkish Basketball League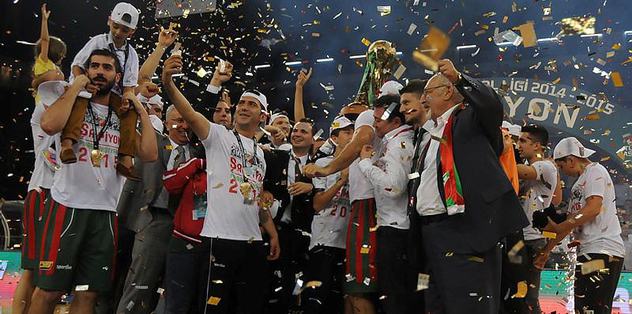 Pinar Karsiyaka has beaten Anadolu Efes, 85-71, in the fifth game of the playoff series
Pinar Karsiyaka beat Anadolu Efes, 85-71, to become winners of the 2014-15 Turkish Basketball League in the fifth game of the playoff series at the Abdi Ipekci Sports Hall in Istanbul on Friday night.
Dominating the game especially in the third quarter, Pinar Karsiyaka won the series 4-1.
Pinar Karsiyaka's Colombian center Juan Palacios was red-hot as he scored 22 points and took 10 rebounds. U.S. guard D. J. Strawberry tallied 19 points, while playmaker Bobby Dixon, power forward Kenny Gabriel and U.S. shooting guard Jon Diebler reached double digits.
Anadolu Efes' Greek small forward Stratos Perperoglou was his team's top scorer with 18 points. He was followed by French point guard Thomas Heurtel having 14 points; however, their individual efforts were not enough to win the match.
Pinar Karsiyaka playmaker guard Dixon was picked as "the Most Valuable Player" of the finals.
Turkish Basketball Federation Chairman, Harun Erdenay handed the trophy to Pinar Karsiyaka players at the ceremony.
Fans and players of the Izmir team were jubilant, and celebrated their victory after the team was handed over the trophy.
Anadolu Efes players were given their runners-up medals and plaque by Turkish Basketball Federation Deputy Chairman, Akin Suel.