Cavs beat Hawks to advance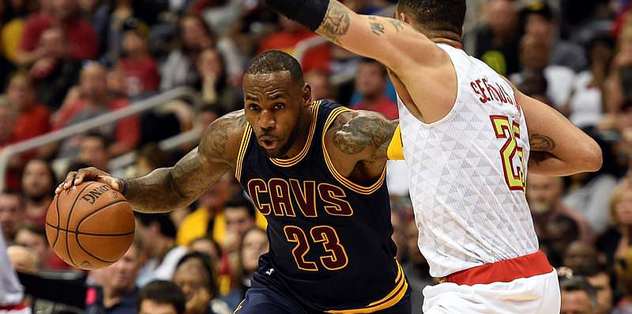 LeBron James hit a huge shot with 39.2 seconds to go as the Cleveland Cavaliers beat the Atlanta Hawks 100-99 on Sunday to finish off a 4-0 sweep and advance to the Eastern Conference
The Cavaliers finished off the second-round series with four straight wins, just as they did in the opening round against Detroit, and Cleveland's Big Three is on quite a roll.
James scored 21 points and doled out nine assists while Kevin Love had 27 points and Kyrie Irving 21 in another dazzling performance.
"This is more than I dreamed of," Irving said. "It's what I genuinely enjoy about basketball, playing with great guys."
When James returned to Cleveland after four years in Miami, winning the franchise's first championship was the only goal that mattered. Love was acquired from Minnesota to complete the dynamic trio, but the Cavaliers came up short last season when both Love and Irving went down with injuries in the playoffs.
Now, fully healthy and finally comfortable together after some rocky moments, LeBron & Co. cruised into the conference finals to meet either Toronto or Miami. The Raptors lead that series 2-1.
"We're in a great rhythm right now," said James. "We know exactly where we want to be on the floor."
Love carried Cleveland much of the game, hitting one 3-pointer after another as the Hawks continually left him open in the corner. He went cold down the stretch but still finished 8 of 15 from beyond the arc. He made only one two-point basket — with his toe on the stripe.
The Hawks had one last chance to extend the series and put the ball in the hands of Dennis Schroder, who led the team with 21 points. The speedy point guard drove into the lane but was surrounded by James and Tristan Thompson. Schroder slipped and James tied up the ball, forcing a huge mismatch of a jump ball with 2.8 seconds left.
"We know Atlanta is a tough team and the closeout game is the hardest game," said Cleveland coach Tyronn Lue, who took over the Cavaliers during the season after David Blatt was fired.
This was a rematch of last year's conference finals, in which the Hawks were the top seed but got swept by the Cavaliers. With Cleveland seeded No. 1 this time, the result was the same. The Atlanta Hawks had fourth-quarter leads in three of the four games but wasn't strong enough to finish, dropping to 0-12 in the postseason against the Cavs.