Thunder dispatch Spurs, advance to West finals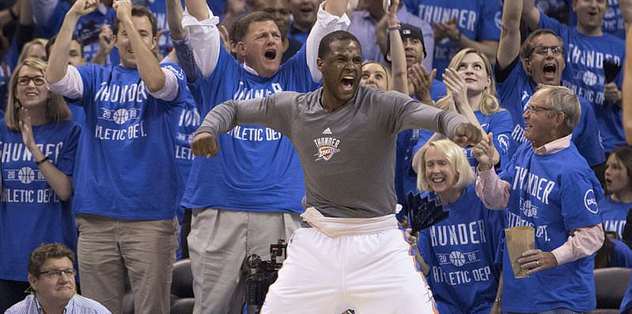 Kevin Durant scored 37 points as the Oklahoma City Thunder eliminated the San Antonio Spurs with a 113-99 victory on Thursday in Game 6 of their Western Conference semi-final series at the Chesapeake Energy Arena.
Oklahoma City will face the Golden State Warriors in the Western Conference finals, with Game 1 scheduled for Monday in Oakland, California.
Durant shot 12-for-24 from the field and added nine rebounds. Russell Westbrook posted 28 points and 12 assists, and Steven Adams added 15 points and 11 rebounds.
Kawhi Leonard paced the Spurs with 22 points on 9-of-23 shooting. LaMarcus Aldridge added 18 points and 14 rebounds. In what may have been his final game in the NBA, Tim Duncan scored 19 points in 34 minutes of action.
After trailing by 28 points, the Spurs cut the lead to 15 points with less than seven minutes in the game. Westbrook missed a layup, and Leonard dribbled the ball upcourt with all the momentum on San Antonio's side.
However, Westbrook came from the back to poke the ball away for the steal. Thunder guard Andre Roberson (14 points) threw the ball ahead to Durant, who was fouled while hitting a tough layup. The ensuing free throw pushed the gap back to 18 points.
The Spurs scored the next five points, including a layup by Duncan with 5:21 left in the game to cut lead to 97-84.
Durant then drove from midcourt to throw down a dunk. and the Thunder came up with back-to-back defensive stops before Danny Green nailed a 3-pointer to slice the margin to 12.
Durant turned the ball over, and Duncan took the ball in for a dunk. However, Thunder forward Serge Ibaka (eight points, 10 rebounds) came up with a blocked shot. That led to another dunk by Durant and a 101-88 advantage with 3:06 left.
David West hit jumper, but Westbrook answered with a 3-pointer. After Leonard missed a shot, Westbrook connected on a layup to seal the win.
The Thunder continued their rebounding dominance with a 50-40 advantage. They turned the ball over 12 times, while the Spurs gave the ball away just 10 times. Oklahoma City outshot San Antonio from the floor, 47.1 percent to 43 percent.