Jones suspended one game for groin hit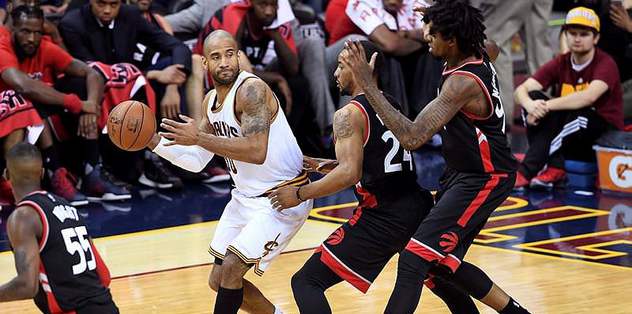 Cleveland Cavaliers guard Dahntay Jones has been suspended for Game Four of the Eastern Conference final against the Toronto Raptors, the NBA announced on Sunday.
Jones struck Toronto big man Bismack Biyombo in the groin in the final seconds of Game Three in Toronto on Saturday, an incident that left Biyombo on the floor in apparent pain.
It should not be a huge loss for the Cavaliers because Jones, 35, is a bench player who sees limited court time.
The Cavaliers lead the best-of-seven series 2-1 with Game Four in Toronto on Monday.
The NBA also announced on Sunday that Toronto coach Dwane Casey had been fined $25,000 for publicly criticizing officials after Game Three.
Casey was upset over the disparity in foul calls, after the Raptors incurred 17 fouls to Cleveland's 10.