Bogut wins Antipodean battle as Warriors beat Thunder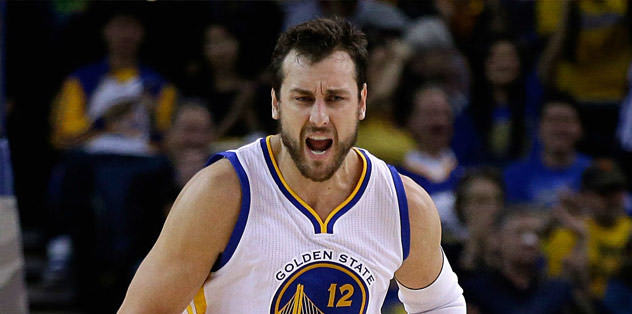 Andrew Bogut responded to his coach's challenge with a big game for the Golden State Warriors as they kept alive their NBA season on Thursday.
Before Game Five of their Western Conference final against Oklahoma City, Steve Kerr said he needed his Australian center to stay out of foul trouble early and contribute more minutes to his team's waning hopes of winning consecutive championships.
Bogut came through, picking up just one foul in the first half and three the entire game, playing an important role in the Warriors' 120-111 victory that sends the series back to Oklahoma with the Thunder leading 3-2 going into Saturday's Game Six.
Bogut played nearly 30 minutes, scoring 15 points on seven-of-nine shooting and pulling down a game-high 14 rebounds.
His numbers were a far cry from the first four games, when he averaged only 14 minutes, three points and 4.3 rebounds.
Bogut edged his Kiwi counterpart Steven Adams in an Antipodean battle, as the Thunder center was forced to sit early after picking up two quick fouls inside the first three minutes.
Kerr was quick afterwards to credit Bogut.
"I thought Boges was phenomenal," Kerr told reporters. "He rebounded, scored, was aggressive.
"Obviously rebounding has been an issue ... So when he can play that way and rebound the ball like that, it just gives us a much better chance to win the game.
"Boges is our best defender. He takes up a lot of space, challenges everything at the rim. Staying out of foul trouble allowed us to keep him on the floor."
Thunder coach Billy Donovan acknowledged that his team had been hurt by Adams' early fouls.
"(It was) one of the things that hurt our rhythm and flow a little bit," Donovan said. "We had to take him out of the game."
Adams eventually had plenty of time on court, clocking more than 31 minutes, compiling eight points and 10 rebounds.
But on this night, he was shaded by his rival from across the Tasman Sea. (