Thunder need to regroup quickly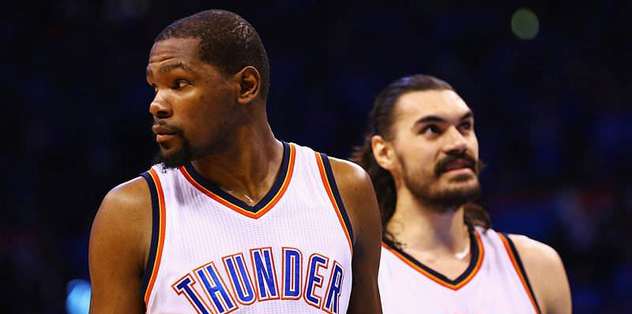 The Oklahoma City Thunder will need to regroup quickly after a crushing loss to the Golden State Warriors that forced a Game 7 of the Western Conference finals on Monday night.
Klay Thompson scored a game-high 41 points -- setting the NBA playoff record with 11 3-pointers -- to rally the Warriors to a 108-101 victory on the road at Chesapeake Energy Arena on Saturday night to hold off elimination.
"I should have had at least 13 (threes) because I missed some wide-open looks early," Thompson said after the win that helped the defending champions extend their historic season.
"Feels good to own a record, but it will feel much better if we close them out on Monday."
- - -
The NBA corrected the point total of Warriors guard Stephen Curry in Game 6 from 29 to 31.
His last basket in Saturday's victory over the Thunder was mistakenly credited to Draymond Green, but the error was corrected Sunday.
A two-point change in a player's scoring total may not seem important, but the over/under in Las Vegas for Curry's total in that game was 30.5.
Curry's 31 points made the "over" the winning bet, so bettors who had thought they won actually lost, and betters who thought they had lost actually won.
- - -
The Memphis Grizzlies officially named Miami Heat assistant coach David Fizdale as the Grizzlies' new head coach on Sunday.
The team did not provide details of Fizdale's contract, but the Memphis Commercial Appeal reported that Fizdale signed a three-year contract with a team option for a fourth year.
Fizdale, 41, has never been a head coach before. He replaces Dave Joerger, who was fired after last season and subsequently became coach of the Sacramento Kings.
"I am extremely excited to be in Memphis and really looking forward to building a legacy with this talented group of players," Fizdale said in a statement.
Fizdale has been an assistant for the Heat for the past eight seasons.
- - -
The Heat and All-Star forward Chris Bosh reportedly clashed over how to treat his blood clot condition, according to the Miami Herald.
Bosh, 32, didn't play after the All-Star break but was hoping to return during the playoffs. The Heat resisted his intentions to play due to the dangers of competing while taking blood thinners.
Bosh's representatives reportedly pitched a proposal in which Bosh would take the blood-thinning medication early in the day so the medication would be out of his system by game time. They said blood tests revealed the medicine would be out of his system 8 to 12 hours after being taken.
Miami and its team doctors were opposed to the idea due to the possibility of Bosh suffering a hard fall or something occurring that would cause him to bleed internally during a contest.
The Heat said they wouldn't allow Bosh to return until he was 100 percent.
Bosh and the Heat finally agreed on May 4 that he wouldn't play in the postseason. This was the second straight season that Bosh didn't finish due to blood clot issues.