Warriors take 3-0 series lead over Blazers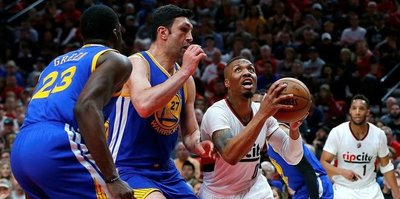 Golden State Warriors beat the Portland Trail Blazers 119-113 and take a 3-0 lead in their first-round playoff series
Stephen Curry wasn't trying to be a hero. He just wanted the win.
Curry scored 34 points — including a 3-pointer with just about a minute left that all but sealed the victory — as the Golden State Warriors overcame a slow start to beat the Portland Trail Blazers 119-113 and take a 3-0 lead in their first-round playoff series.
Playing without both Kevin Durant and coach Steve Kerr, the Warriors came back Saturday night from a first-half 17-point deficit. Golden State can clinch the series with a win Monday night in Game 4 at the Moda Center.
"It's not necessarily 'hero ball,' it's being aggressive in those spots that you have," Curry said. "You might need to force the issue. That might mean taking a shot, it could be trying to get your feet in the paint and make a play, defensively trying to assert yourself — whatever the game calls for, getting ready for those moments."
Klay Thompson added 24 points in the victory, which Curry said was marked by a handful of "boneheaded mistakes" in the first half. A 19-1 run in the third quarter brought the Warriors back.
Afterward, Curry said he gave the game ball to general Manager Bob Myers to give to Kerr, who stayed back at the team hotel because of illness.
Warriors assistant Mike Brown stood in for Kerr, who still experiences lingering symptoms from complications following two back surgeries after the franchise's run to the 2015 championship. He missed the first 43 games last season dealing with symptoms such as headaches, nausea and an aching neck.
Despite his prolonged absence, the Warriors went 73-9 last season and played in the NBA championship game. Kerr was named Coach of the Year.
"I don't know all of the circumstances," Brown said before the game. "He's just not feeling well, and we'll see how he feels later on."