LeBron James becomes top scorer in NBA Playoffs history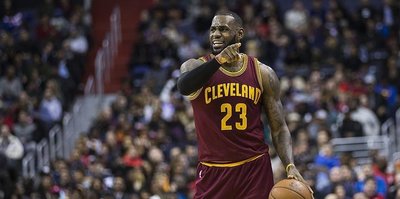 Cleveland Cavaliers back to NBA Finals third year in a row after eliminating Celtics in Eastern Conference Finals
Cleveland Cavaliers' superstar LeBron James has become the top scorer in National Basketball Association (NBA) Playoffs history after his team defeated Boston Celtics in Eastern Conference Finals late Thursday.
Cavaliers won the match 135-102 and eliminated Celtics 4-1 in the series, with James scoring 35 points.
James surpassed legendary Michael Jordan's NBA Playoffs scoring record of 5,987 points, when he scored his 29th point with 2:40 left in the third quarter of Game 5.
The victory meant another NBA Finals trip for Cleveland Cavaliers, as they became Eastern Conference Champions for three years in a row.
Cavaliers will face Golden State Warriors in the NBA Finals, who swept their way through the playoffs by eliminating Portland Trail Blazers, Utah Jazz and San Antonio Spurs in four games each.
Cavaliers, during their run, eliminated Indiana Pacers and Toronto Raptors in four games, the Celtics pushed them for a five-game series.
This year's finals match-up marks the third Cavaliers-Warriors clash. The first one in 2015 ended in a Golden State championship, while last year James and co. managed to bring Cleveland its first major sports title in decades when they triumphed against a Warriors team that had its fans revel in a 73-9 season, the best in NBA history.
The NBA Finals will start on June 1.
Here are the top 10 scorers in NBA Playoffs History:
1. LeBron James 5,995 points
2. Michael Jordan 5,987 points
3. Kareem Abdul-Jabbar 5,762 points
4. Kobe Bryant 5,640 points
5. Shaquille O'Neal 5,250 points
6. Tim Duncan 5,172 points
7. Karl Malone 4,761 points
8. Jerry West 4,457 points
9. Tony Parker 4,012 points
10. Larry Bird 3,897 points