LeBron James' home vandalized with racial slur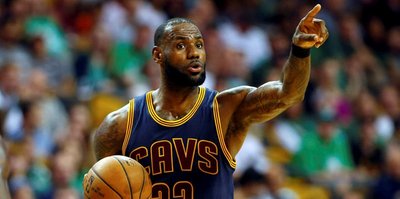 Police investigating incident one day before superstar plays in NBA Finals
The home of NBA superstar LeBron James was vandalized with a racial slur, according to multiple media reports Wednesday.
A racial slur that contained the "n-word" was spray painted on the outer gate of James' private home in Los Angeles, California, witnesses said.

The paint was later sprayed over, according to Los Angeles Police Department (LAPD) officers who responded to the scene around 6:45 a.m. local time (1345GMT).

"LAPD is investigating a vandalism at the residence of NBA player LeBron James in which a racial slur was spray painted on a private fence," the department said in a statement via Twitter.

James' team, the Cleveland Cavaliers, did not respond to Anadolu Agency's request for comment.

The motive for vandalism against the three-time NBA champion's home is not yet known.
"My family is safe. At the end of the day, they're safe and that's what's most important. But it just goes to show that racism will always be a part of the world, a part of America," James said at a news conference.
"Hate in America, especially for African-Americans is living every day. Even though that it's concealed most of the time, even though people hide their faces and will say things about you, and then when they see you they smile in your face. It's alive every single day," he added.
The four-time league MVP has been outspoken against social injustice.
"No matter how much money you have, no matter how famous you are, no matter how many people admire you, being black in America is tough. And we've got a long way to go for us as a society and for us as African-Americans until we feel equal in America," James said.
At the time of the incident, James is believed to have been in Oakland, California, as his team prepares for Game 1 of NBA Finals against Golden State Warriors scheduled for Thursday.