Warriors take 2-0 series lead in NBA Finals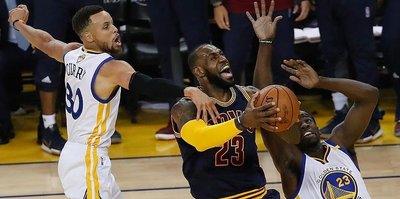 Curry, Durant combine for 65 points as Golden State completes second rout at home
The Golden State Warriors took a commanding 2-0 series lead in the NBA Finals with a 132-113 win at home against the defending champions Cleveland Cavaliers.
The Warriors won the first two games of the series at Oracle Arena by comfortable margins, setting the pace and dictating the flow of the game, and are now a perfect 14-0 in the playoffs.
Golden State's depth, cemented with the addition of superstar Kevin Durant, spelled trouble for the titled-holders as LeBron James' triple-double effort -- 29 points, 14 assists and ten rebounds -- was not enough to counter All-Stars Stephen Curry and Durant who combined for 65 points.
James' performance tied him with Hall of Famer Magic Johnson with eight career triple-doubles in the Finals.
Curry, too, posted a triple-double -- his first in the post-season -- recording 32 points, 11 assists and 10 rebounds.
Game 3 will be played Wednesday at Quicken Loans Arena as the best-of-seven series shifts to Cleveland, Ohio, for the next two games. The Cavaliers came back last year from a 3-1 deficit against the Warriors in the Finals to prevent a repeat and to win the city's first major sports title since 1964.
"It has been a great run but none of that matters unless we can finish the job with this series. Trust me, we know," said Golden State coach Steve Kerr, who returned to the bench Sunday after missing most of the playoffs with pain issues resulting from a 2015 surgery.