Warriors eyeing record after Game 3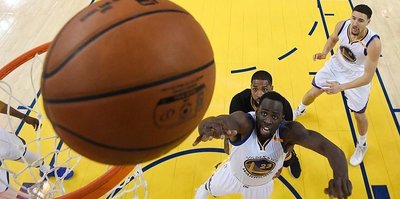 Golden State to become first undefeated team in Playoffs history if they take Game 4 Friday
Golden State Warriors are a game away from achieving the first unblemished Playoffs record in NBA history after Wednesday's away win against a valiant Cleveland Cavaliers in the Finals.
The Warriors are already in record books after they registered the longest winning streak in major sports history with 15 victories by defeating the defending champions 118-113 in a thrilling game at Quicken Loans Arena for a commanding 3-0 lead in the series.
The Cavs last year became the first team in NBA history to come back from a 3-1 deficit to steal the title against 2015 winners Golden State, but with Kevin Durant on their side this season and no victories to Cleveland's name at home or away, the odds this time look all the more insurmountable.
Durant made all the difference Wednesday night, leading the Warriors in scoring with 31 points and making the all-important clutch three-pointer with 45 seconds to go in the fourth quarter to give his side a one-point lead at 114-113.
Golden State will return to Quicken Loans on Friday for a game that may give them their second championship in three years on an unprecedented, perfect 16-0 run in the post-season, just a year after they recorded the best season in NBA history with 73 wins.