Fenerbahce beat Besiktas, lead series 2-0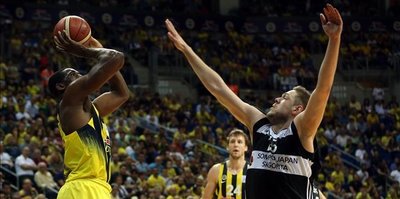 Yellow Canaries make no mistake at home, defeat Besiktas 83-74 to push series lead 2-0 in playoff finals
Fenerbahce have defeated Besiktas Sompo Japan 83-74 at Ulker Sports Arena on Sunday evening to lead playoff finals series 2-0.
Having defeated Besiktas in series first match on Friday evening, Fenerbahce started the match at a slow pace, allowing their rival to finish first quarter up 19-17.
Yellow Canaries used home advantage to take control and managed to lead the first half 39-36.
Reigning Turkish Airlines EuroLeague champions Fenerbahce pushed the lead to 15 at mid-fourth quarter and never looked back, defeating their Istanbul rivals.
Four players scored in double digits for Fenerbahce, Bogdan Bogdanovic scored a game-high 19 points. Jan Vesely scored 16 points, Nikola Kalinic added 15 and Kostas Sloukas chipped in 11 points in victory.
Michael Roll's 15 points and Vladimir Stimac's 15 point-11 rebound performance was once again not enough for Besiktas.
With the victory, Fenerbahce are now on a remarkable 28-game winning streak.
Two teams will again square off on June 14, this time at Besiktas' home court Akatlar.