Warriors beat Cavs to take NBA title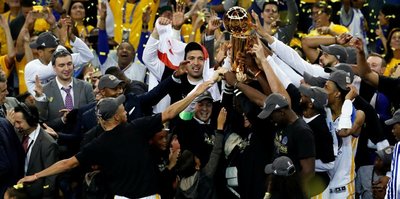 Finals MVP Kevin Durant wins first ring averaging more than 30 points in series
The Golden State Warriors defeated the Cleveland Cavaliers 129-120 to return the NBA title to California on Monday after succumbing last year to a 3-1 Cavs comeback in the Finals.
The X factor was Kevin Durant, who won the first championship of his illustrious career and was crowned Finals MVP, recording more than 30 points in each game of the series.
Durant praised fans and the franchise for the victory during a post-game interview.
"We're champions and we did it on our own floor," he said.
After two comfortable home wins at Oracle Arena and a thriller in the Game 3 in Cleveland, the Warriors suffered its first loss of the post-season in Game 4 against a defiant title-holder on the ropes.
A dominant 137-116 victory Friday, however, was not enough to discourage the 2015 champions, who had the best season in NBA history last year with 73 wins.
The Warriors were back in form Monday, with Durant scoring a Finals career-high 39 points, seven rebounds and five assists. Stephen Curry added 34 points, 10 assists and six rebound after a sluggish Game 4 performance.
LeBron James had a stellar Finals average of 41 points 13 rebounds and eight assists, and Kyrie Irving -- the Cavs' All-Star playmaker and one of the architects of last year's championship -- contributed 26 points and six assists. Cleveland's Big Three was not in full force with Kevin Love held to six points.
In addition, the Warriors bench outscored the Cavs' reserves 35-7, adding to Cleveland's troubles.