Russell Westbrook named NBA MVP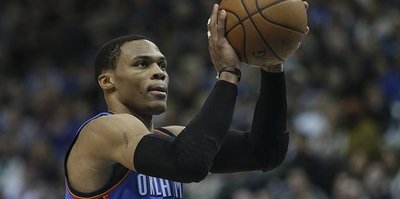 Draymond Green, D'Antoni also honored in ceremony
Russell Westbrook won the Most Valuable Player award Monday in the first-ever NBA Awards ceremony.
With a record-setting 42 triple-doubles in the regular season, the Oklahoma City superstar point-guard became the second player in NBA history to average a triple-double for an entire season. Oscar Robertson was the first.
Runners-up in the category included James Harden of the Hoston Rockets, Kawhi Leonard of the San Antonio Spurs, Cleveland Caviliers' LeBron James and Isaiah Thomas of the Boston Celtics.
Draymond Green of the champion Golden State Warriors took home the top defensive honors, beating out Rudy Gober of the Utah Jazz and Leonard, who won the award in the past two seasons.
After turning around the Houston Rockets in a 55-win season, Mike D'Antoni was named Coach of the Year.
Returning to the league following a years-long absence, D'Antoni managed to lead the Rockets to 14 more wins than the 2015-2016 season with an explosive offense that set a league record with 1,181 3-pointers and finished second in the NBA by averaging 115.3 points per game.
Other awards included Malcolm Brogdon of the Milwaukee Bucks who took home the Rookie of the Year; Teammate Giannis Antetokounmpo was named Most Improved Player and Eric Gordon of the Houston Rockets won the Sixth Man Award.