NBA unveil new jersey rule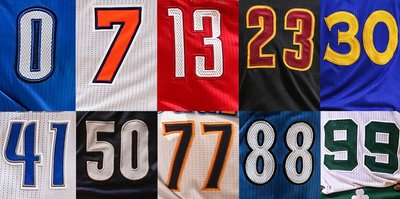 League announces new rules for uniforms as new official outfitter reveals lighter jerseys, more choices
The NBA announced Tuesday it would eliminate home and away jersey designations as Nike launches its first season as official apparel supplier of the league.
The two replacing jersey "editions" will be called the Association Edition and the Iconic Edition, the former being a more traditional white-background uniform and the latter representing "the rich heritage and iconic identity of each NBA franchise", according to Nike.
The NBA will no longer require a specific jersey to be worn during home and road games. Instead, the home team will choose which uniform to wear and the visiting squad will put on contrasting jerseys.
Nike, which takes over from Adidas for an eight-year contract, said it employed 3D body maps of players -- including heat and sweat maps -- to design lighter and more flexible jerseys in keeping with the "free-flowing nature of the sport".
The design, which was worn by Team USA at the 2016 Rio Olympics, includes bigger armholes, modified hemlines and collars, as well as a stitched logo.
All teams will wear the Nike logo, except for the Charlotte Hornets, that will -- thanks to their principal owner and chairman Michael Jordan -- sport the iconic Jumpman logo. Jordan is involved with Nike's long-running Air Jordan brand.
The NBA and Nike will reveal two more uniform editions later this year. Along with the four primary lines, a special Classic Edition will be unveiled for eight teams, celebrating their most iconic looks.