Panathinaikos defeats Anadolu Efes in Euroleague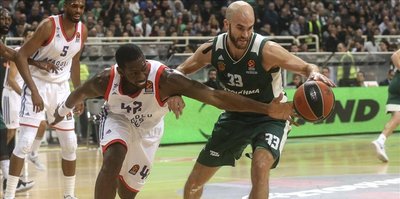 Second half of season begins in European basketball's top club competition as Greek team defeats Turkish side in Athens
Panathinaikos Superfoods defeated Anadolu Efes 90-79 Thursday evening in Athens in Turkish Airlines Euroleague's regular season match.
The second half of the season started Jan. 4, with Round 16 matches, as the Greek team had no trouble beating the Turkish side with a dominant display.
Nick Calathes scored 17 points and dished out nine assists in the victory, as Panathinaikos grabbed its 11th win of the season.
Josh Adams' game-high 20 points were not enough for Anadolu Efes, as they were defeated for the 12th time in the regular season, finding themselves at the bottom place.
The other results from Thursday:
Barcelona Lassa - CSKA Moscow: 85-72
Unicaja Malaga - Valencia Basket: 83-85
Here are Friday's matches:
Fenerbahce Dogus - Baskonia Vitoria
Crvena Zvezda - Zalgiris Kaunas
Brose Bamberg - Khimki Moscow
Olympiakos - Armani Milano
Real Madrid - Maccabi Fox Tel-Aviv
Here are the standings after Thursday's matches:
| Regular Season | W | L | PTS+ | PTS- | +/- |
| --- | --- | --- | --- | --- | --- |
| 1. CSKA Moscow | 12 | 4 | 1398 | 1251 | 147 |
| 2. Olympiacos Piraeus | 11 | 4 | 1101 | 1065 | 36 |
| 3. Panathinaikos Superfoods Athens | 11 | 5 | 1255 | 1211 | 44 |
| 4. Zalgiris Kaunas | 10 | 5 | 1204 | 1190 | 14 |
| 5. Fenerbahce Dogus Istanbul | 9 | 6 | 1171 | 1080 | 91 |
| 6. Real Madrid | 9 | 6 | 1257 | 1168 | 89 |
| 7. Maccabi FOX Tel Aviv | 8 | 7 | 1196 | 1213 | -17 |
| 8. Khimki Moscow Region | 8 | 7 | 1160 | 1191 | -31 |
| 9. Baskonia Vitoria Gasteiz | 7 | 8 | 1219 | 1225 | -6 |
| 10. Unicaja Malaga | 7 | 9 | 1221 | 1278 | -57 |
| 11. Crvena Zvezda mts Belgrade | 6 | 9 | 1147 | 1223 | -76 |
| 12. Brose Bamberg | 6 | 9 | 1097 | 1189 | -92 |
| 13. FC Barcelona Lassa | 6 | 10 | 1296 | 1256 | 40 |
| 14. Valencia Basket | 5 | 11 | 1203 | 1241 | -38 |
| 15. AX Armani Exchange Olimpia Milan | 4 | 11 | 1154 | 1222 | -68 |
| 16. Anadolu Efes Istanbul | 4 | 12 | 1223 | 1299 | -76 |