Snowfall interrupts Besiktas match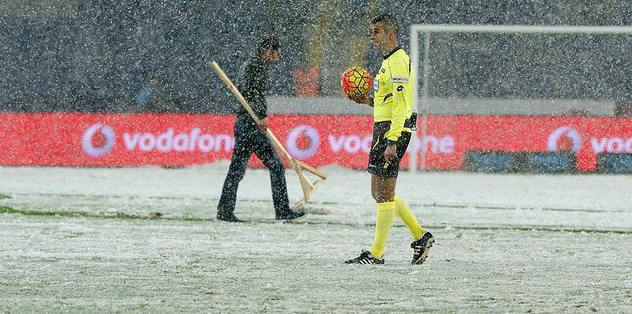 Spor Toto Super Lig match between Turkish clubs Besiktas and Mersin Idmanyurdu has been abandoned due to snowfall in Istanbul
Heavy snowfall has interrupted a football match between Turkish clubs Besiktas and Mersin Idmanyurdu in the Spor Toto Super Lig at the Basaksehir Fatih Terim Stadium in Istanbul, a Turkish Football Federation official said Sunday evening.
The match was abandoned, but the federation was yet to decide if the match would be played at a later date.
The Besiktas - Mersin Idmanyurdu match had begun seven minutes late due to the snowfall.
Stadium workers tried to clear the pitch, but it was to no avail. In the fifth minute, Referee Mete Kalkavan decided to interrupt the match due to the renewed heavy snowfall that made pitch lines invisible.
When it became evident that snowfall would not cease anytime soon, the referee called the team captains Tolga Zengin and Gvven Varol, and announced the postponement of the match.
According to the rules, a postponed match is supposed to be played 24 hours later.
Adnan Sevim from the Turkish Football Federation told reporters at the stadium that "the match has been postponed to a later date".
However, Istanbul is expected to receive heavy snowfall also on Monday. "Nevertheless, the federation will give the final decision," Sevim added.