Besiktas beat Leipzig in Champions League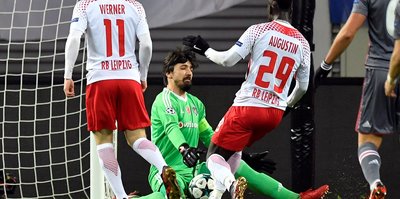 Black Eagles become first Turkish team to advance to round of 16 unbeaten after a deserved win at away game thanks to an amazing performance by goalkeeper Tolga Zengin.
Turkish football team Besiktas defeated Germany's Leipzig on Wednesday to become the first Turkish club to advance to the UEFA Champions League's round of 16 level unbeaten at group stage.
In the last match of Group G, Besiktas beat host club Leipzig 2-1 in an away match in Germany.
Alvaro Negredo scored the opening goal for Besiktas in the 10th minute from the penalty spot.
In the 87th minute, however, Leipzig's Keita scored the equalizer for the German side.
But Talisca's goal in the 90th minute allowed Besiktas to advance to the group of 16.
With Wednesday's victory, Besiktas achieved 14 points, becoming the most point-achieving Turkish team in the UCL group stage.
It is the only Turkish team to qualify from the group stage undefeated and advanced as the group leader.
"Ending the group stage undefeated and with the most points achieved by a Turkish team. Now who's next #UCL?" the Istanbul club said on Twitter.
Besiktas striker Cem Tosun also expressed his confidence following the game.
"We need to keep playing with the same discipline going forward. It doesn't really matter who we get in the next round because the 16 that remain are the best of the best. A game against Bayern would be special though," said Tosun, according to UEFA's official website.