Canaries face BATE Borisov and freezing cold in Europa League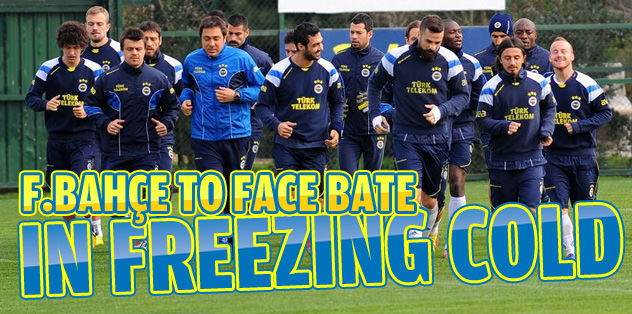 Weather forecast suggests that the Canaries will also be up against inclement weather in Belarus. Moreover, this will be Fenerbahçe's first encounter against a Belarusian side, so it is another puzzle for the Canaries since they will be facing an unknown adversary
The weather forecast for the Belarusian city of Grodno on Thursday evening is minus six degrees Celsius, while that of İstanbul is plus six.
The Yellow Canaries, as Fenerbahçe is called in football circles, therefore will be going from one extreme to another and battling more than one opponent when they take on BATE Borisov in the round of 32 at Neman Stadium in Grodno on Thursday.
Mother Nature suggests that the Canaries will also be up against the freezing cold weather in Belarus. Moreover, this will be Fenerbahçe's first encounter against a Belarusian side, so it is another puzzle for the Canaries since they will be facing an unknown adversary.
For the record: The match has been moved to Grodno because the 5,400-capacity Borisov City Stadium does not meet UEFA standards.
Road kings Canaries
Fenerbahçe, though performing well below par in the domestic Spor Toto Super League, has been very successful on the road in the UEFA Europa League thus far. The Canaries won all their three Group C away matches, but won one, drew one and lost one at home -- garnering 13 points and finishing as group leaders with two points over second-placed Borussia Möchengladbach.
BATE, an acronym of Borisov Works of Automobile and Tractor Electric Equipment, is no spring chicken. The tiny Belarusian team made a good start to the 2012-13 UEFA Champions League group stage campaign, stunning the likes of French powerhouse Lille and German Bundesliga's Bayern Munich, both 3-1.
But four straight losses meant the Belarusians finishing third in Group F and "demoted" to the round of 32 in the second-tier UEFA Europa League, where it was it was pitted against Fenerbahçe.
Fenerbahçe coach Aykut Kocaman has beefed up his team by re-signing left midfielder Emre Belözoğlu from La Liga's Atletico Madrid, Geneva-born Switzerland left back Reto Pirmin Ziegler from Serie A's Juventus and purchasing veteran Cameroon forward Pierre Webo from İstanbul Büyükşehir Belediyespor during the January transfer window.
Emre and Webo have blended quickly into the team, with goal-machine Webo scoring two goals in as many domestic Super League matches he has played with the Canaries. Webo is almost certain to make the first XI against BATE, but there are question marks over Ziegler's form. Emre was not included on the roster submitted to UEFA -- since he is not eligible, having already played in this competition with Atletico this season -- and so will not be fielded. He will most probably be replaced by Mehmet Topal.
The Canaries warmed up for the match against BATE with a 1-0 away victory over struggling Mersin İdman Yurdu in the Super League on Saturday. Players who made the starting line-up against Mersin -- defenders Gökhan Gönül, Egemen Korkmaz, Bekir İrtegün, Ziegler; midfielders Cristian Baroni, Raul Meireles; and Webo and Dirk Kuyt -- trained separately from the rest of the team on Tuesday.
Nigeria defender Joseph Yobo, who is still celebrating the African Nations Cup triumph with the rest of the team in his home country, was absent from training. The other noticeable absentees included leftie Caner Erkin and Senegal striker Moussa Sow, who were still receiving treatment for various injuries.
Viktor Goncharenko's playing career as a BATE defender ended at 25 due to a knee injury, but he successfully turned to coaching. BATE coach Goncharenko knows he faces a tough task on Thursday even though they will be playing at home in familiar icy weather. "Our job won't be easy, Fenerbahçe is a formidable opponent," he said this week.
Kickoff is at 8 p.m. and the referee will be Alan Kelly of Ireland. Damien MacGraith and Allen Lynch will be his assistants, while Kenneth Hennessy will be the fourth official. The auxiliary referees will be Neil Doyle and Padraigh Sutton.
Neither Fener nor BATE has progressed to the last 16 of the Europa League, and so the winner over the two legs (return leg in İstanbul on Feb. 21) in the round of 32 will make club history and will face the Napoli-Viktoria Plzen victor in the next stage.
Thursday's fixtures at a glance
Zenit (Russia) vs. Liverpool (England)
Anji (Russia) vs. Hannover 96 (Germany)
Sparta Prague (Czech Rep.) vs. Chelsea (Eng.)
Levante (Spain) vs. Olympiakos (Greece)
Napoli (Italy) vs. Viktoria Plzen (Czech Rep.)
Dinamo Kiev (Ukraine) vs. Bordeaux (France)
Leverkusen (Germany) vs. Benfica (Portugal)
BATE Borisov (Belarus) vs. Fener (Turkey)
Ajax (Netherlands) vs. Steaua (Romania)
Basel (Switzerland) vs. Dnipro (Ukraine)
Inter Milan (Italy) vs. Cluj (Romania)
Newcastle (England) vs. Metalist (Ukraine)
Stuttgart (Germany) vs. Genk (Belgium)
Atletico (Spain) vs. Rubin Kazan (Russia)
M'Gladbach (Germany) vs. Lazio (Italy)
Tottenham (England) vs. Lyon (France)