Van Persie deny national retirement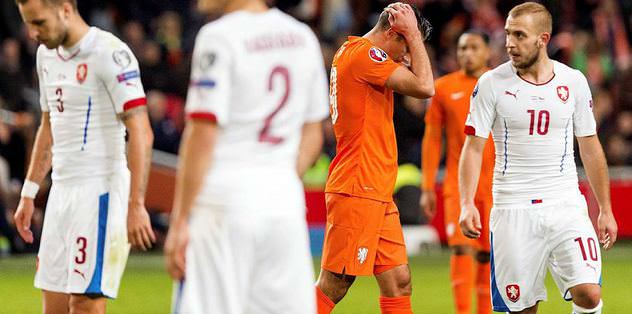 The Fenerbahce striker scored an own goal in their 3-2 defeat to Czech Republic, as Netherlands failed to qualify for Euro 2016.
Despite his international career being near to utter collapse, Netherlands striker Robin Van Persie insists he will not retire in the aftermath of his side's disappointing Euro 2016 qualifying campaign.
After impressing in the 2014 World Cup in Brazil, finishing in third, The Oranje disappointed their devoted fans, as the greatest footballing nation never to lift the World Cup failed to book a place in the upcoming Euro being held in France.
With Netherlands needing a miracle to qualify in the final round of matches, the veteran Fenerbahce striker scored a disastrous own goal to hand his nation a 3-2 home defeat to 10-man Czech Republic.
Calls for the 32-year-old's retirement rung on Twitter shortly afterward, however, the former Man United star insists he will not quit the international side just yet.
"I'm not one to walk away from difficult challenges, so I won't this time around," the Dutchman told De Telegraaf.
"We'll have to stomach this for the coming year. We are all going to have to deal with it: players, fans, media, everyone.
"A lot has happened, I'll be reflecting on it over the next months. But, as I see it now, I'll remain available for national duty. I still find it a great honour to play for the national side. In good times but also in bad ones.
"I'm not one to walk away from his responsibilities in difficult times. Quitting is not an option. Of course it all depends on whether I'll be selected or not."