Fenerbahce head to Europa League Last 16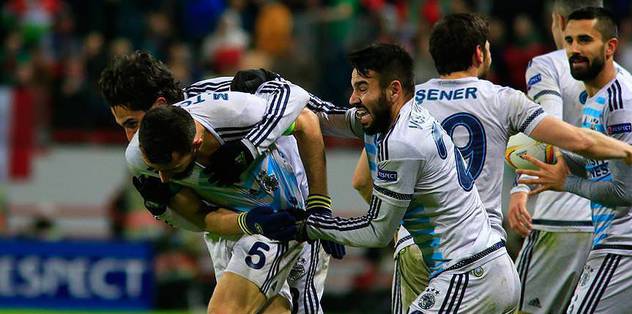 Turkish football club Fenerbahce have advanced to the next round in the Europa League drawing 1-1 against Lokomotiv Moscow on Thursday night in the Russian capital.
Aleksandr Samedov scored for Moscow in the 45th minute. Fenerbahce's goal came from Mehmet Topal in the 83rd minute.
Fenerbahce have thus secured a spot in the Last 16.
Another Istanbul team Galatasaray bade farewell to the Europa League, losing 3-1 to Italian Lazio in an away game at the Stadio Olimpico in Rome on Thursday night.
The results of second legs are as follows:
Lokomotiv Moscow (Russia) vs Fenerbahçe (Turkey): 1-1 (first leg: 0-2)
Schalke 04 (Germany) vs Shakhtar Donetsk (Russia): 0-3 (0-0)
Athletic Bilbao (Spain) vs Olympique Marseille (France): 1-1 (1-0)
Liverpool (England) vs Augsburg (Germany): 1-0 (0-0)
Krasnodar (Russia) vs Sparta Prag (Czech Republic): 0-3 (0-1)
Lazio (Italy) vs Galatasaray (Turkey): 3-1 (1-1)
Bayer Leverkusen (Germany) vs Sporting Lisbon (Portugal): 3-1 (1-0)
Rapid Wien (Austria) vs Valencia (Spain): 0-4 (0-6)
Manchester United (England) vs Midtjylland (Denmark): 5-1 (1-2)
Basel (Switzerland) vs St-Etienne (France): 2-1 (2-3)