Essien is happy to play for Mou again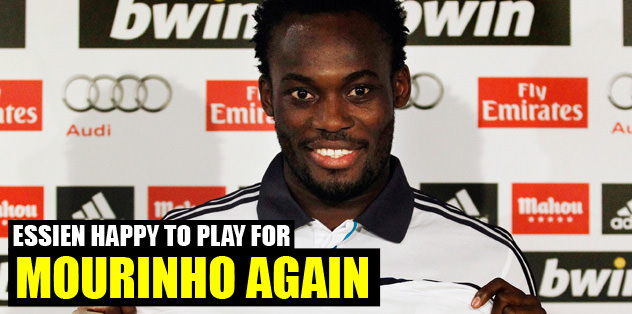 Ghana midfielder Michael Essien said he's happy to again be playing for coach Jose Mourinho after completing his move to Real Madrid on a one-season loan from Chelsea Saturday.
Essien, who played for Mourinho at the Premier League club, passed a medical exam with the Spanish champion.
"A call from Mourinho is more than enough, he's like a father to me and I am ready to play in any position that he asks me to play," he said. "We have a very good relationship and I get on very well with him."
The 29-year-old Essien, who has suffered various injuries in recent seasons, dismissed concerns over his health.
"I have had a few physical problems but they are a thing of the past. I am fit and feeling strong. Real Madrid wouldn't have signed me otherwise," said Essien, who scored 25 goals in 243 appearances for Chelsea and helped it win two English league titles.
Essien will likely be asked to fill the place left by the exit of holding midfielder Lassana Diarra, who Madrid dealt to Russian club FC Anzhi.
Madrid assistant coach Aitor Karanka said the team expected big things from its latest reinforcement.
"Essien is a player this coaching staff believes in," Mourinho's right-hand man said. "He is a great professional and person, and he will be an important signing."
Essien has been included in the squad for Sunday's game against Granada, when Madrid will look for its first win in the Spanish league.
He is Madrid's second offseason signing after Luka Modric joined from Tottenham.