Here is the best 11!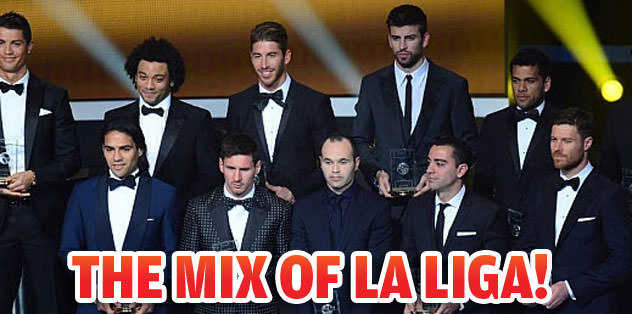 Five Barcelona players (Dani Alves, Gerard Piqué, Xavi Hernández, Andrés Iniesta and Leo Messi), five from Real Madrid (Iker Casillas, Sergio Ramos, Marcelo, Xabi Alonso and Cristiano Ronaldo) and Colombian Radamel Falcao (Atlético de Madrid) complete the dream team for 2012, also announced at the FIFA Ballon d'Or award ceremony.
The FIFA/FIFPro World 2012 best starting XI of the year was chosen by 50,000 professional footballers from a list of 55 candidates (5 keepers, 20 defenders, 15 midfielders and 15 strikers).
Every player in the FIFA/FIFPro World 2012 plays in the Spanish league and Spain, with seven of its European champions, was the country with the most footballers in this starting XI of the year.