"I want to keep up my rhythm"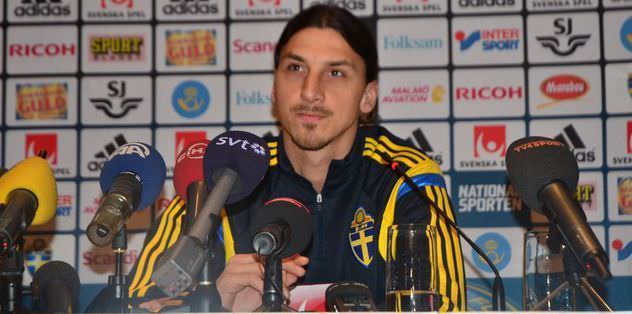 Paris St Germain star football player Zlatan Ibrahimovic says he hopes to play during the Sweden-Turkey international friendly on Wednesday in the Turkish capital, Ankara.
Sweden's football superstar Zlatan Ibrahimovic said he wants to play for his country against Turkey on Wednesday – despite having back pains.
''I don't want to miss any games because I'm in an important moment where I want to play football and I want to keep up my rhythm,'' Ibrahimovic said.
Emphasizing that Turkish football is progressing, Ibrahimovic complimented one of Turkey's largest football teams, Galatasaray, for its performance against Chelsea last week, which ended in a draw.
The father of two children, who might not be able to play with his fellow Swedes against Turkey on Wednesday because of back pains, said he only has positive things to say about Turkish football.
Sweden lost 2-3 against Portugal in a playoff for the 2014 World Cup, scheduled to be held in Brazil between June 12 and July 13.
Ibrahimovic said Brazil could win the World Cup because they will be playing at home and "have that advantage in front of them". He said he hopes one of his teammates' countries wins the world cup.
Ibrahimovic, who is currently playing for Paris St Germain, said he is very happy with his team and that he has a good contract.
"But if I would get an offer from Turkey, I would be happy because it means that the interest is still there – I feel alive then," Ibrahimovic said.
When asked about his comments on the 2014 Ballon d'Or award, Ibrahimovic said it is up to other people to decide who wins what, and that he is breaking his personal records from previous seasons.
Born and raised in Sweden, Ibrahimovic was asked what advice he would give to himself as an 18-year-old.
"I would be more than happy to see myself as 18 years old, and as good as I am today, it would be very good and I would see a very good future in front of me," he said and smiled.
However, 32-year-old Ibrahimovic also said he is happy to perform at the highest level in his late years in his career.
''I feel like the wine – the older the wine gets, the better it gets,'' he said.