Suarez suspended for 9 matches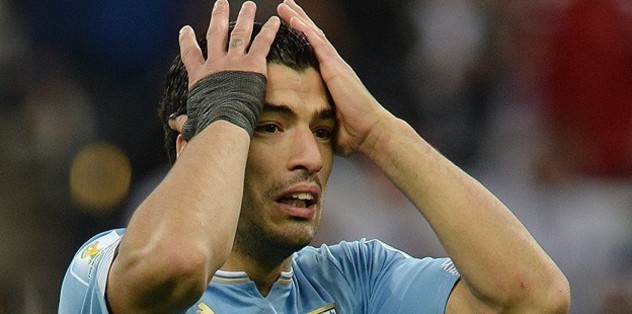 Uruguayan star forward Suarez is suspended for 9 matches and also banned for 4 months from any football-related activity by FIFA for biting his Italian opponent Chiellini
Uruguayan star forward Luis Suarez is suspended for nine matches and also banned for four months from any football-related activity by FIFA for biting his Italian opponent Giorgio Chiellini during 2014 FIFA World Cup Group D match on Thursday.
FIFA Discipline Committee told the Uruguayan Football Federation that such an act is not tolerated especially in a tournament like the World Cup where there are millions of spectators.
Liverpool's 27-year-old forward is ineligible to play against Colombia in the round 16 match kicking off on June 28, and he also misses the upcoming official matches of Uruguay. In addition he will not be able to enter stadiums until his four-month and nine-match ban finishes. Moreover, he is served with a 100,000 Swiss francs ($111,800) fine .
It is not the first time that Luis Suarez bit his opponent. While he was playing for the Dutch giants Ajax, he bit PSV Eindhoven's Otman Bakkal and received a seven-match ban. After this incident, the Dutch press dubbed him "Cannibal of Ajax."
During the 2012-13 football season Liverpool's Uruguayan star bit his Serbian opponent from Chelsea, Branislav Ivanovic, in his arm and he was given a 10-match ban.