Sepp Blatter to resign amid FIFA corruption scandal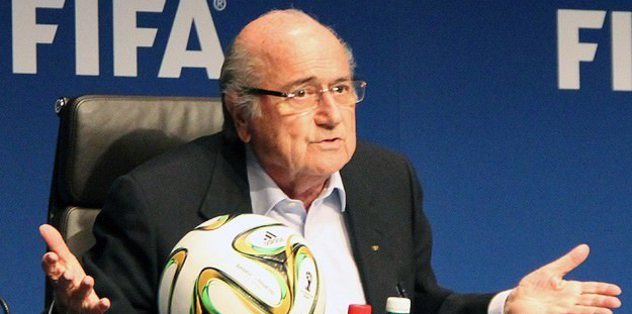 79-year-old says he will step down from international football's governing body following re-election four days ago
FIFA President Sepp Blatter announced his resignation on Tuesday night as the corruption scandal in football's top governing body gathered pace.
Just four days after being re-elected as president for another four-year term, the 79-year-old Swiss said he would step down and a new president would be elected.
"I will call an extraordinary congress and a new president will be elected," Blatter said at a press conference in Zurich. He will continue to carry out his duties as president until his replacement is elected.
There was no timescale given but Blatter said FIFA's executive committee "must allow enough time for the best candidates to present themselves and to campaign." He indicated it would be before the next congress scheduled to take place in Mexico City in May next year.
"I cherish FIFA more than anything," Blatter said earlier in his statement, published on FIFA's website. He added: "FIFA needs a profound overhaul. While I have a mandate from the membership of FIFA, I do not feel that I have a mandate from the entire world of football – the fans, the players, the clubs, the people who live, breathe and love football as much as we all do at FIFA."
The beleaguered head of world football, said his resignation would allow him to "focus on driving far-reaching, fundamental reforms that transcend our previous efforts."
Turning to the organization he has led for 17 years, Blatter called for "deep-rooted structural change" including reducing the size of the executive committee and making its members elected through the FIFA congress.
He added that integrity checks for executive committee members "over whom we have no control, but for whose actions FIFA is held responsible" should be organized through FIFA and not regional confederations.
First elected in 1998, Blatter has been beset by recent corruption claims that saw seven senior FIFA officials arrested two days before his re-election.
Last week, the U.S. Department of Justice charged 14 people in a 47-count indictment alleging racketeering, wire fraud and money laundering conspiracies.
On Tuesday, reports emerged that FIFA General Secretary Jerome Valcke, effectively Blatter's deputy, was involved in receiving an alleged $10 million bribe over South Africa's bid to host the 2010 World Cup.
In a separate Swiss investigation, FIFA vice presidents Jeffrey Webb and Eugenio Figueredo were arrested over bribery allegations surrounding the 2018 and 2022 World Cup bids.
Reacting to the resignation, the head of the English Football Association, which has been one of the foremost critics of Blatter's reign, described it as "great news for football."
Greg Dyke, chairman of the association, told the BBC: "It should have happened years ago. The timetable doesn't matter. There has to be a root and branch investigation ofFIFA. It has all got to be transparent in the future."
In a short statement, Michel Platini, president of the European governing body UEFA, said: "It was a difficult decision, a brave decision and the right decision."