Ronaldo makes history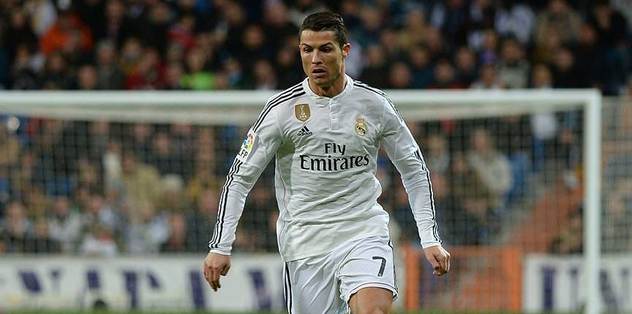 Madrid's Portuguese star scores 500th career goal against Swedish side in UEFA Champions League game
Spanish football giants Real Madrid skipped past Swedish team Malmo 2-0 in UEFA Champions League Group A match on Wednesday night.
Visitors Real Madrid's star forward Cristiano Ronaldo hit twice in Sweden, scoring his 500th goal in his career.
The tally also helped Ronaldo reach the record of former Real Madrid forward Raul Gonzalez, who was the all-time leading goal scorer of the team.
Former "Los Blancos" (The Whites) legend Raul scored 323 goals for Spanish heavyweights in his career.
- Wednesday's results:
Group C:
Astana 2-2 Galatasaray
Atletico Madrid 1-2 Benfica
Group D:
Borussia Monchengladbach 1-2 Manchester City
Juventus 2-0 Sevilla
Group A:
Shakhtar Donetsk 0-3 Paris Saint-Germain
Malmo 0-2 Real Madrid
Group B:
Manchester United 2-1 Wolfsburg
CSKA Moscow 3-2 PSV
- Groups are as follows:
Group A
| Clubs | P | W | D | L | GF | GA | +/- | Pts |
| --- | --- | --- | --- | --- | --- | --- | --- | --- |
| Real Madrid | 2 | 2 | 0 | 0 | 6 | 0 | 6 | 6 |
| Paris Saint-Germain | 2 | 2 | 0 | 0 | 5 | 0 | 5 | 6 |
| Malmo | 2 | 0 | 0 | 2 | 0 | 4 | -4 | 0 |
| Shakhtar Donetsk | 2 | 0 | 0 | 2 | 0 | 7 | -7 | 0 |
Group B
| Clubs | P | W | D | L | GF | GA | +/- | Pts |
| --- | --- | --- | --- | --- | --- | --- | --- | --- |
| PSV | 2 | 1 | 0 | 1 | 4 | 4 | 0 | 3 |
| Manchester United | 2 | 1 | 0 | 1 | 3 | 3 | 0 | 3 |
| CSKA Moscow | 2 | 1 | 0 | 1 | 3 | 3 | 0 | 3 |
| Wolfsburg | 2 | 1 | 0 | 1 | 2 | 2 | 0 | 3 |
Group C
| Clubs | P | W | D | L | GF | GA | +/- | Pts |
| --- | --- | --- | --- | --- | --- | --- | --- | --- |
| Benfica | 2 | 2 | 0 | 0 | 4 | 1 | 3 | 6 |
| Atletico Madrid | 2 | 1 | 0 | 1 | 3 | 2 | 1 | 3 |
| Galatasaray | 2 | 0 | 1 | 1 | 2 | 4 | -2 | 1 |
| Astana | 2 | 0 | 1 | 1 | 2 | 4 | -2 | 1 |
Group D
| Clubs | P | W | D | L | GF | GA | +/- | Pts |
| --- | --- | --- | --- | --- | --- | --- | --- | --- |
| Juventus | 2 | 2 | 0 | 0 | 4 | 1 | 3 | 6 |
| Sevilla | 2 | 1 | 0 | 1 | 3 | 2 | 1 | 3 |
| Manchester City | 2 | 1 | 0 | 1 | 3 | 3 | 0 | 3 |
| Borussia Monchengladbach | 2 | 0 | 0 | 2 | 1 | 5 | -4 | 0 |
Group E
| Clubs | P | W | D | L | GF | GA | +/- | Pts |
| --- | --- | --- | --- | --- | --- | --- | --- | --- |
| Barcelona | 2 | 1 | 1 | 0 | 3 | 2 | 1 | 4 |
| Bayer Leverkusen | 2 | 1 | 0 | 1 | 5 | 3 | 2 | 3 |
| BATE | 2 | 1 | 0 | 1 | 4 | 6 | -2 | 3 |
| Roma | 2 | 0 | 1 | 1 | 3 | 4 | -1 | 1 |
Group F
| Clubs | P | W | D | L | GF | GA | +/- | Pts |
| --- | --- | --- | --- | --- | --- | --- | --- | --- |
| Bayern Munich | 2 | 2 | 0 | 0 | 8 | 0 | 8 | 6 |
| Olympiacos | 2 | 1 | 0 | 1 | 3 | 5 | -2 | 3 |
| Dinamo Zagreb | 2 | 1 | 0 | 1 | 2 | 6 | -4 | 3 |
| Arsenal | 2 | 0 | 0 | 2 | 3 | 5 | -2 | 0 |
Group G
| Clubs | P | W | D | L | GF | GA | +/- | Pts |
| --- | --- | --- | --- | --- | --- | --- | --- | --- |
| Dynamo Kyiv | 2 | 1 | 1 | 0 | 4 | 2 | 2 | 4 |
| Porto | 2 | 1 | 1 | 0 | 4 | 3 | 1 | 4 |
| Chelsea | 2 | 1 | 0 | 1 | 5 | 2 | 3 | 3 |
| Maccabi Tel-Aviv | 2 | 0 | 0 | 2 | 0 | 6 | -6 | 0 |
Group H
| Clubs | P | W | D | L | GF | GA | +/- | Pts |
| --- | --- | --- | --- | --- | --- | --- | --- | --- |
| Zenit | 2 | 2 | 0 | 0 | 5 | 3 | 2 | 6 |
| Valencia | 2 | 1 | 0 | 1 | 3 | 3 | 0 | 3 |
| Gent | 2 | 0 | 1 | 1 | 2 | 3 | -1 | 1 |
| Olympique Lyon | 2 | 0 | 1 | 1 | 1 | 2 | -1 | 1 |