Turkey take giant step for Euro 2016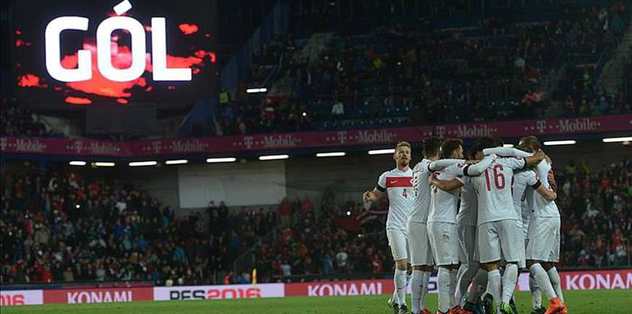 Turkey beat Czech Republic 2-0 in Prague and maintain a two-point-lead over Netherlands with a game to spare in Group A
Turkey secured a great advantage to reach UEFA Euro 2016 play-offs as they beat Czech Republic 2-0 in the qualifying round's Group A match at Generali Arena in Prague on Saturday.
Turkish central midfielder Selcuk Inan broke the deadlock with a penalty kick in the 62nd minute, 1-0.
In 80', Turkish midfielder Hakan Calhanoglu doubled the score by finishing in the box on a deadly Arda Turan assist, all but sealing the victory against the Group A runners-up.
Iceland, the group leaders, qualified for the finals alongside the Czechs with a match to spare. Kazakhstan and Latvia have already failed to qualify.
Turkey and Netherlands are battling to claim a ticket for Euro 2016 play-offs. Coming in third spot, Turkey have 15 points against the Netherlands' 13.
Meanwhile, the Netherlands edged out Kazakhstan 2-1 in an away match, with midfielders Georginio Wijnaldum and Wesley Sneijder serving the scoring in Astana.
Both sides have a game remaining after Saturday's fixtures -- Turkey face Iceland while Netherlands take on the Czechs.
Even a possible draw against Iceland on Tuesday -- in the Turkish central province of Konya, where Turks thrashed the Dutch 3-0 last month -- will be enough to thrust Turkey into the playoff stage, without regard to the outcome of the Netherlands - the Czech Republic game in Amsterdam.
During Saturday's match in Prague, Turkey players wore black armbands to protest the twin bombings in Turkish capital Ankara that killed 95 people on Saturday. Before the kick-off both team players stood in silence to commemorate the victims.
The blasts targeted a peace rally in Turkey's capital in the morning, leaving at least 95 dead and 246 injured, according to the prime minister's office. The number of casualties makes the attack the deadliest in recent Turkish history.
Group A results:
Czech Republic 0-2 Turkey
Iceland 2-2 Latvia
Kazakhstan 1-2 Netherlands

Group A standings:
| Teams | P | W | D | L | GF | GA | +/- | Pts |
| --- | --- | --- | --- | --- | --- | --- | --- | --- |
| Iceland | 9 | 6 | 2 | 1 | 17 | 5 | 12 | 20 |
| Czech Republic | 9 | 6 | 1 | 2 | 16 | 12 | 4 | 19 |
| Turkey | 9 | 4 | 3 | 2 | 13 | 9 | 4 | 15 |
| Netherlands | 9 | 4 | 1 | 4 | 15 | 11 | 4 | 13 |
| Latvia | 9 | 0 | 5 | 4 | 6 | 18 | -12 | 5 |
| Kazakhstan | 9 | 0 | 2 | 7 | 6 | 18 | -12 | 2 |