Platini defends $2m FIFA payment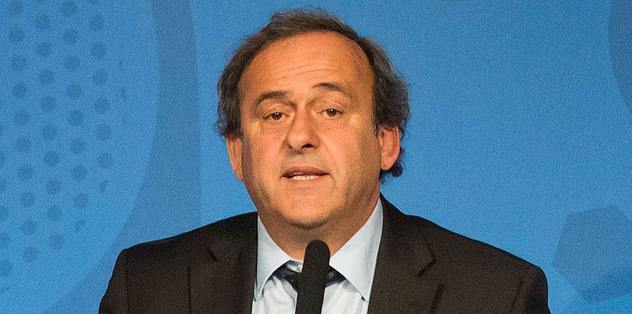 'I find it shameful to be dragged through the mud,' says UEFA president to French daily Le Monde
The head of European football's governing body Michel Platini Monday has called the 2 million Swiss francs ($2.1 million) he received from FIFA in 2011 legitimate and expressed his will to run in the FIFA presidential elections despite being slapped with a 90-day suspension.
UEFA President Platini, 60, the FIFA president, Joseph Blatter, and several other international football officials were suspended on Oct.8 for 90 days by the FIFA Ethics Committee over corruption claims.
"I was suspended for three months, but what annoys me the most is to be put in the same bag as the others. I find it shameful to be dragged through the mud," the former French football star, who is also FIFA vice president, said in an interview published Monday by French newspaper Le Monde.
Platini added he had submitted his FIFA election application papers before being hit with the suspension and hoped that his provisional suspension will be lifted to allow him to run.
"My lawyers follow FIFA procedures and will go to the Court of Arbitration for Sport if necessary," he said.
"I am the only one who can ensure that FIFA again becomes the home of football," added the UEFA president. "But, whenever I approach the sun, like Icarus, it burns everywhere."
The 90-day suspension can also be extended by 45 more days, potentially bringing its end just six days before the FIFA presidential election scheduled on Feb. 26 next year.
FIFA is to hold an extraordinary executive committee meeting on Tuesday to reportedly discuss the postponement of the presidential election.
Jordanian Prince Ali Bin Al Hussein, 39, and former Trinidad and Tobago midfielder David Nakhid, 51, are also running to become FIFA president.
As for the payment of 2 million Swiss francs he received from FIFA in February 2011, the UEFA president said he had no written contract, arguing it was it was a late payment for unpaid months of work he did for FIFA President Sepp Blatter from 1998 to 2002.
Platini said he and Blatter had agreed a fee of 1 million Swiss francs per year for his work.
"It's a long time since I've had neither a lawyer nor an agent to negotiate for me," he said. "It was a man-to-man thing."
Platini went on explaining how the deal was made: "I worked for several months without pay. After a while, I go see Blatter: 'You have a problem paying me?' He says: 'Yes, I can't pay you 1 million because of the wage structure. You must understand that the secretary general gets 300,000 Swiss francs [$314,000]. You can't get more than three times his salary. So we'll write you a contract for 300,000 Swiss francs and pay the rest later.' And that's what happened. Only later never came."
He said he invoiced FIFA for 2 million Swiss francs in 2011 because he mistakenly recalled that he had been paid 500,000 Swiss francs annually at the time, and not 300,000.
"I was paid 10 days later without any difficulty by FIFA and I paid charges and taxes on that sum quite normally," he added. "Frankly, if there was any doubt, FIFA would have refused to pay me."
Swiss prosecutors opened criminal proceedings against Blatter on Sept. 25 on suspicion of "criminal mismanagement" as well as on suspicion of "misappropriation of funds".
Blatter, 79, is suspected of violating his "fiduciary duties" and acting "against the interests of FIFA" and also suspected of making a "disloyal payment" of the 2 million Swiss francs ($2 million) to UEFA's Platini.
In May, Swiss police arrested seven FIFA officials, including two vice presidents, on corruption charges at the request of U.S. authorities, who later issued indictments against seven other people in the case.
Following claims of corruption, Blatter, who has always denied any wrongdoing, announced his decision to step down on June 2, just after he was re-elected president for a fifth consecutive term. He is due to leave office on Feb. 26.
Platini told Le Monde that Blatter "wants to kill him politically", however he still bears "a little affection" for him.
"I admired his politics. He has a lot of charm and I can say that I was somehow bewitched. Even if he wants to kill me politically, I still have a little affection for what we experienced together," Platini said.