Zidane appointed R.Madrid coach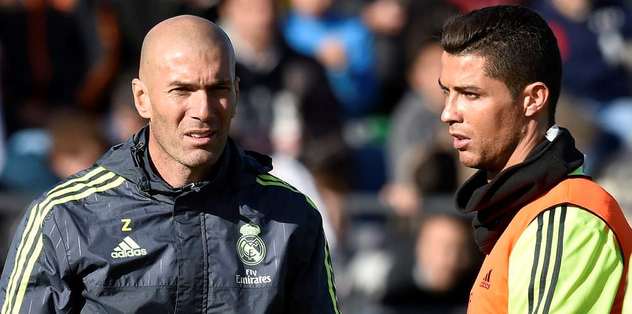 Zinedine Zidane, the new Real Madrid coach, kicked off the first day of his new role with a high-profile training session attended by thousands of applauding fans
Real Madrid fired coach Rafa Benitez after only seven months on Monday and replaced him with former star player Zinedine Zidane. The three-time FIFA World Player of the Year faces a tough challenge to drag the Spanish club out of its current crisis and back to the heights of success, and prove his ability as a coach. Just hours after the announcement of his nomination, the 43-year-old oversaw his first training session with the club at the small Alfredo Di Stefano stadium in Madrid, walking out onto the pitch to the cheers of some 5,000 supporters.
"Zizou, Zizou!" they shouted as he entered, wearing a grey tracksuit and fluorescent shoes. The Frenchman gathered players around him. Then he kicked the ball to start a training exercise, drawing shouts of "hurray."
Zidane replaces Rafael Benitez, who struggled to win over both Madrid's fans and their superstars during his seven months at the helm. The club has suffered a year-long slump that has seen it burn through two Champions League-winning coaches, see eternal rivals Barcelona win the treble and suffer the embarrassment of several off-field scandals. Zidane has his work cut out, with Spain's many sports dailies pointing to his lack of coaching experience.
"The Frenchman is a football legend and a great figure of Madrid," wrote the Marca sports daily - Spain's most read.
"But his coaching experience is inversely proportional to his excellent footballer's experience - limited... and controversial."
So far, this experience has been limited to a season-and-a-half in charge of Madrid's feeder team Castilla, which failed to secure promotion from Spanish football's third tier last season.
But he has the advantage of knowing the players well - he was the deputy of Carlo Ancelotti, who coached Real Madrid in 2013 and 2014. And the team appeared relaxed yesterday, with players all smiles. The morning's tranquility, however, is but a prelude to the global media attention that Zidane's afternoon press conference at the mythical Santiago Bernabeu stadium will attract.