Disciplinary proceeding against Tarasov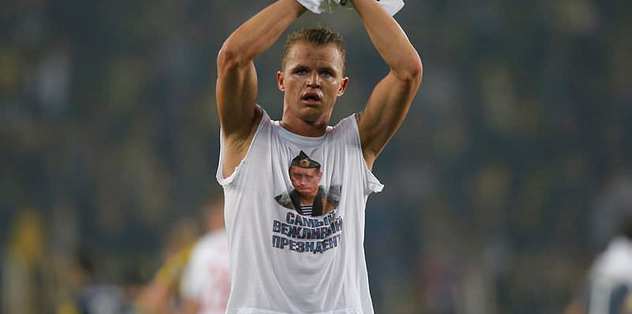 UEFA to open disciplinary proceeding against Russian midfielder Tarasov for showing T-shirt with Putin's photo during match against Turkish club in Istanbul
European football governing body UEFA has opened a disciplinary proceeding against a Russian club player for flashing his T-shirt with Russian president's picture during a match against Turkish club Fenerbahce, the organization said on its website Wednesday.
Lokomotiv Moscow midfielder Dmitry Tarasov wore a T-shirt depicting Russian President Vladimir Putin's face along with the words 'the most polite president" during a Europa League match against Fenerbahce in Istanbul Tuesday.
Fenerbahce won the match 2-0. The goals came from Brazilian midfielder Josef de Souza Dias, commonly known as Souza, in the 18th and 72nd minutes.
The second leg of the match will be played at Stadion Lokomotiv in Moscow on Feb. 25.
UEFA said on its website that the 28-year-old Russian midfielder will face a disciplinary investigation.
According to UEFA regulations, a player can be punished if he or she reveals political, religious, personal slogans, statements or images, or advertising messages other than the manufacturer's logo during a match.
The UEFA's control ethics and disciplinary body will announce its decision on March 17, the website added.
Bilateral relations between Turkey and Russian have strained in recent months in the aftermath of a series of incidents, including the shooting down of a fighter jet and major disagreements over the Syria crisis.