Sevilla takes record third straight title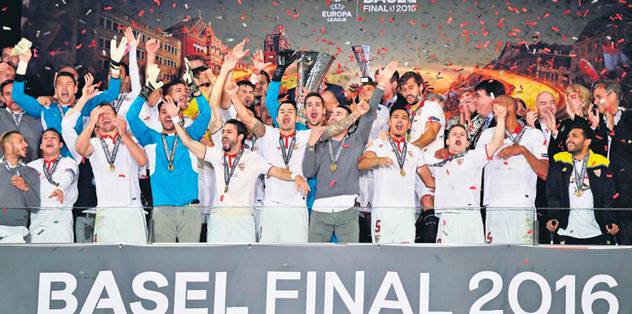 Sevilla stunned Liverpool with a 3-1 comeback win to take a record third straight Europa League title yesterday.
Swept aside in the first half yet trailing only 1-0, the Spanish club equalized less than 18 seconds after the restart with Kevin Gameiro's goal from close range and Coke struck twice in the 64th and 70th minutes.
Liverpool had led on Daniel Sturridge's beautifully curled shot with the outside of his left foot in the 35th.
Victory in the second-tier competition, for the fifth time in 11 seasons, lifts Sevilla into the Champions League group stage alongside Europe's elite next season.
"Sevilla and its fans love this competition. We want it so much," coach Unai Emery said. "Now we want to take the step toward the Champions League."
Defeat leaves Liverpool with no European soccer next season and dealt coach Jürgen Klopp a fifth straight loss in a cup final, including the 2013 Champions League final when he was with Borussia Dortmund.
Klopp accepted he and his players reacted poorly after Sevilla's fast start to the second half, but also cited decisions that went against his team.
"If it was twice handball (then) 2-0 at halftime, it is different," Klopp reflected. "In a final when it is clear it is close, we needed a little luck. We hadn't."
The third Sevilla goal was also furiously disputed by Liverpool after an assistant signaled what at first seemed an apparent offside against Coke, then lowered his flag.
It ensured Spain will sweep Europe's club competitions for a third straight year, ahead of the Atlético Madrid-Real Madrid final of the Champions League on May 28.
Sevilla turned around the match magnificently to rock a Liverpool team that dominated as the first half progressed.
"The first (Sevilla) goal had a big influence on our game," Klopp said. "In this moment we lost faith in our style of play. We have 44 minutes to strike back so where is the problem? The reaction was the problem."
Two Sevilla goals exposed tackling and positional errors by its former player Alberto Moreno on the left side of Liverpool's defence.
The game changed on Sevilla catching Liverpool cold after Moreno's poor header gifted possession to Mariano Ferreira. The right-back then broke too easily through a Moreno tackle to pass the ball across the goalmouth for the unmarked Gameiro to score.
Gameiro should have scored in the 60th, when left alone by Moreno, to hit a bouncing shot that goalkeeper Simon Mignolet saved, but Liverpool's reprieve was short.
Coke soon struck a sweeping shot from the edge of the penalty area, after Vitolo played two return passes and broke through a tackle. Coke then exposed Moreno's defensive space to fire low into Mignolet's goal.
Liverpool had led when its three forwards linked together for the first time. Brazilians Roberto Firmino and Philippe Coutinho passed across the Sevilla defence to find Sturridge to step forward and strike a sweet shot.
Sevilla also had problems on the left side of defence where Liverpool right back Nathaniel Clyne twice created good first-half chances for Sturridge.
Liverpool thought it had a two-goal lead in the 39th on Dejan Lovren's strong header, from a corner won by Clyne exploiting huge space, but goalkeeper David Soria was distracted by Sturridge in an offside position.
The high-intensity game Klopp demands had unsettled the two-time defending champion and his players tore into Sevilla seeking a second goal.
Sevilla's danger man Gameiro barely showed until winning a corner in the 30th that eventually found him for a scissor-kick that flashed just wide.
Liverpool fans far outnumbered Sevilla supporters in the 35,000 crowd and fights broke out 30 minutes before kickoff in a poorly divided area behind one goal. Only then did a line of police and stewards stand between the two groups.