Luis Enrique thrilled with Barcelona's season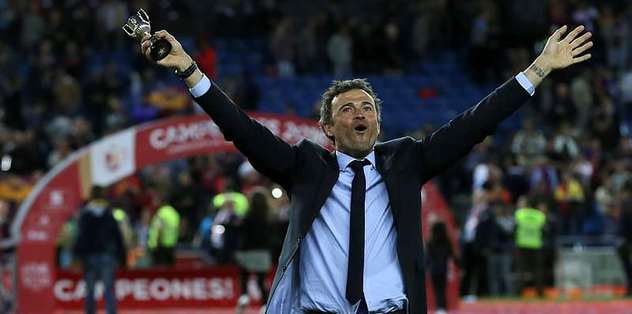 Despite Barcelona's exit from the Champions League at the quarter-final stage, coach Luis Enrique said their victory over Sevilla in the King's Cup on Sunday had capped a "fantastic" season.
Spanish top flight champions Barcelona beat Sevilla 2-0 after extra-time, thanks to goals from Jordi Alba and Neymar, playing nearly 90 minutes with 10 men after Javier Mascherano's red card.
"It was a spectacular end to the season," he told a news conference. Asked to sum up the season in one word, he replied. "Fantastic."
"This team is made of champions. We must be proud of these players," he added. "When the team had to defend, we were able to close the gaps, compete and play football. It's time to enjoy it."
By defending their King's Cup trophy, Barcelona won a seventh title from nine competitions under Luis Enrique.
As well last season's league, King's Cup and Champions League treble, they won the UEFA Super Cup and Club World Cup with him at the helm.
"The truth is I've always fallen on my feet here," said Luis Enrique, who was serenaded by fans at the end of the final at the Vicente Calderon.
"I feel like just another Catalan, although I am 1,000 percent from Gijon and an Asturian. I can't feel more valued and loved. That's since I signed here in 1996."
Sevilla coach Unai Emery was proud of his players too, highlighting the fact that their Europa League win on Wednesday had given them less time to prepare for the game.
"In the second half we had two good chances," he said.
"If we were fresher, in the final quarter of the pitch we would have been able to win the game. I don't think we lacked luck, and the team has a lot of ambition.
"We lacked freshness, which would have allowed us to respond more (after Barcelona scored)."