Xhaka caught between two nations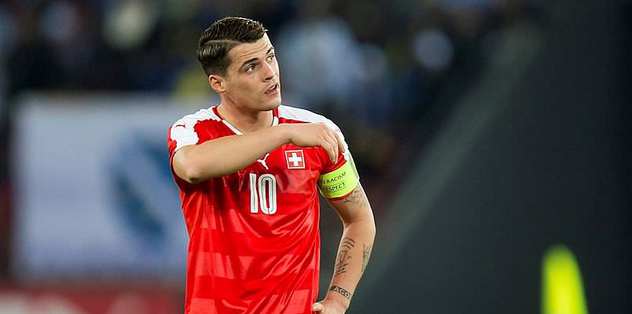 Swiss midfielder Granit Xhaka stands out with his intelligence, technique and superb distribution, yet for such an elegant player he also has a surprising volatile streak.
Xhaka has been sent off three times for Borussia Moenchengladbach in the Bundesliga this season, five times overall, and he is still only 23.
Critics say he is too easily provoked and he will clearly need to avoid trouble if Switzerland are to have any chance of making it past the first round of the European Championship. The player himself believes opponents are under orders from managers to deliberately provoke him.
Born in Kosovo to a family of ethnic Albanians, Xhaka was compared to Germany's Bastian Schweinsteiger by previous Swiss coach Ottmar Hitzfeld for the way in which he dictates the Swiss midfield. He remains their key player.
Nicknamed "Little Einstein" because of his interest in science, Xhaka initially considered playing for Albania but said he was shunned by that country's football federation.
Switzerland and Albania have been drawn in the same group and Xhaka is likely to line up against his brother Taulant in their opening match.
Xhaka has openly supported Kosovo's successful campaign to be allowed to play international matches and has said he would consider switching.