Ibrahimovic leads Sweden by example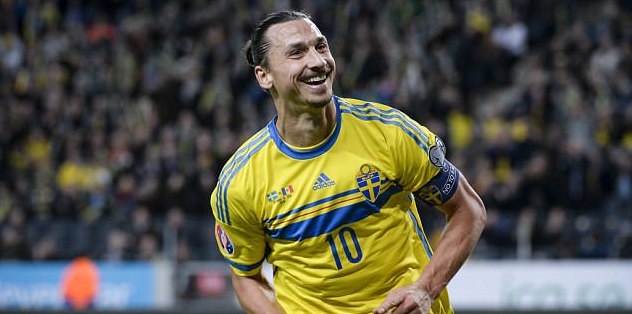 Coach Erik Hamren may scoff at the suggestion but if any side at Euro 2016 are a one-man team it is Zlatan Ibrahimovic's Sweden who at times seemed to be dragged through qualifying by the sheer force of the giant striker's will.
The 34-year-old with the spectacular skills and lethal finishing ability netted 11 of Sweden's 19 goals in qualifying, including three of their four in the playoff win over Denmark that booked their place in France.
His goalscoring prowess almost overshadowed his enormous defensive effort in the second leg in Copenhagen that set the tone for his side's success.
"I think he's a great player and a fantastic person," Hamren told Reuters. "I made him captain with a view to him taking a lot of responsibility for the team and he has done that."
His country's all-time leading scorer, Zlatan's importance for Swedish football is not limited to his achievements on the pitch.
His participation in home games at the Friends Arena has a huge effect on ticket sales and his influence on the country's youth is enormous, not least on the junior members of the Sweden squad.
"Many of the younger players listen to him very carefully and follow his example. He has done a great job there, an enormous job," Hamren said.
"But he's also one of the lads, he gives a lot of himself and there's a lot of jokes and laughter."
Having famously said that the 2014 World Cup in Brazil would not be worth watching as he would not be there, Ibrahimovic will be making what could be his final appearances for Sweden at Euro 2016.
The striker has announced that he is leaving Paris St Germain so the tournament will be a perfect shop window for his undoubted talents.