Spain's Del Bosque says to retire as a manager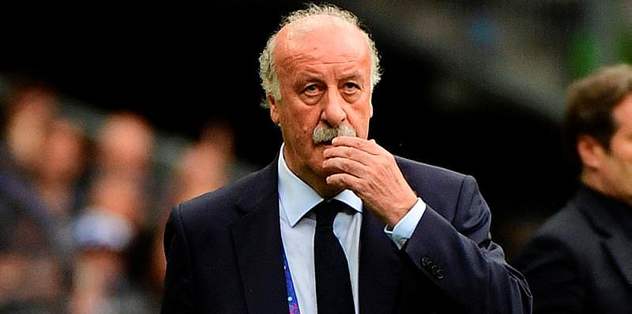 Spain coach Vicente del Bosque has decided to retire from football management after the defending champions were knocked out of Euro 2016 by Italy at the finals in France.
"Of course, I have no intention of continuing (as Spain coach)," the country's World Cup-winning manager said in an interview with Radio Nacional de Espana on Thursday.
"It was a decision I had taken beforehand. I still have a contract until July 31 (when) I will retire from football."
Spain, who were trying to win their third straight European title, lost 2-0 to Italy in the last 16 on Monday.
"It was difficult to win again," said the 65-year-old Del Bosque. "We didn't have a good performance against Italy but the group stages were good."
Spain won their opening two games against the Czech Republic and Turkey but lost their final group match to Croatia, who pipped them to top spot in the section leaving Del Bosque's team with a tricky clash against familiar foes Italy in the last 16.
"What was always going to be the most difficult was to win (the title) again," he said.
Del Bosque led his country to their first World Cup title in 2010 and followed that triumph by clinching Spain's second successive European Championship two years' later.
At that point, the Spaniards were the dominant side in world football, with their high-tempo possession game providing a template that many teams tried to emulate.
Their air of invincibility was punctured at the World Cup in 2014, however, when they were knocked out in the group stage after losing their opening two matches.
FAILED CAMPAIGN
Del Bosque, who won two Champions League crowns and two La Liga titles in a four-year spell in charge of Real Madrid from 1999, was persuaded to stay on as Spain boss and led them into Euro 2016 where they failed to deliver.
They were well-beaten by an organised Italy side and looked a shadow of Del Bosque's previous teams.
"However the European Championship worked out, I had no doubt about my future," he said. "It was a decision I had taken beforehand. I don't want to hide, nor make an exhibition of myself.
"I've tried to deal with this issue with discretion because we are talking about a federation and we have to respect it. But the decision had already been taken, whatever had happened at the Euros it was decided."
Del Bosque denied reports he had been in talks with Spanish Football Federation (RFEF) president Angel Maria Villar.
"I have not met with him nor have I had a conversation with him," he said. "In September there is a very difficult (World Cup) qualification campaign and this doesn't stop."
Asked about his successor, Del Bosque said: "There are people that are very qualified and I have not been asked who should replace me.
"I will leave the bench although I will always be close to it, wishing that things go well. I will be available to help Spanish football in any way I can."
Former Sevilla coach Joaquin Caparros and current Granada manager Paco Jemez both said earlier on Thursday that they were interested in the position if Del Bosque was to leave.