Portugal heads to semis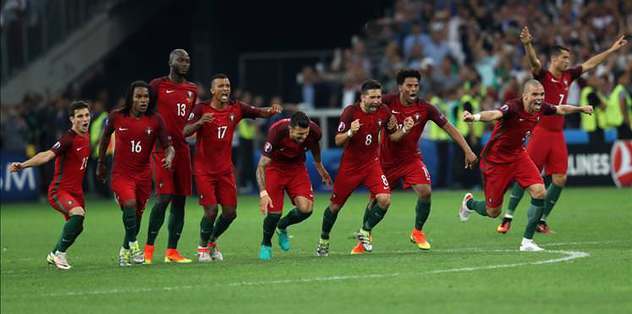 Portugal have qualified for the semi-finals of the Euro 2016 after beating Poland 5-3 on penalties Thursday night at Stade de Velodrome of Marseille.
Ricardo Quaresma, Portugal's extra-time penalty specialist, slammed the match winning shot into the top left corner and sent Poland home.
The match started after a standing ovation by the fans to pay tribute to the victims of Istanbul's airport terror attack. Both teams and thousands of spectators gave a standing ovation and clapped their hands to honor victims of Tuesday's attack that left dozens of people dead.
Poland's striker Robert Lewandowski stirred his crowd after a well-placed shot in only the 2nd minute, giving his team a cherished early lead.
But Poland were not able hold on, as 18-year-old phenom Renato Sanches found the bottom right corner of the net in the 33rd minute after a beautiful pass from Luis Nani.
The second half, contrary to the exciting first 45 minutes, was cagey as neither team seemed willing to risk getting caught on the counter attacks.
Regular time finished 1-1 and teams headed to the extra time of 30 minutes.
No goals from either team meant the semi-final ticket would be decided by penalties, and Portugal found the net 5 times without a mistake.
30-year-old winger from Sevilla, Jakub Blaszczykowski's miss sealed the fate of Poland, leaving them eliminated after beating Switzerland on penalties in the previous round.
Portugal, who did not manage to win a match during the regular 90 minutes in this tournament, will live to see another day.
The Euro 2016's quarter-final match-ups continue with one game Friday, as Wales will take on Belgium at 19:00 GMT in Lille.