Host Brazil favorite for Olympic football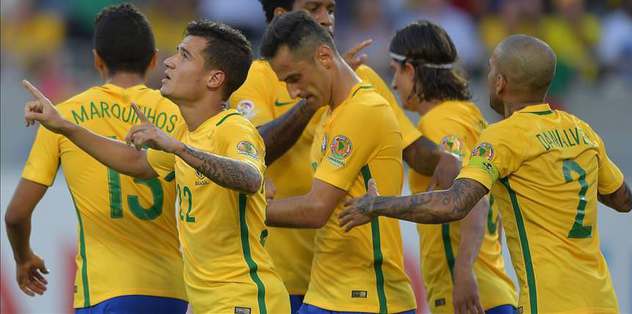 Host country Brazil is heading into the Rio Olympics as the favorite to take home men's football gold but will face tight competition from the world's best.
Having the home pitch advantage could be a decisive factor for Brazil who will be facing stiff competition, notably from football powerhouses Germany, Mexico, Argentina and Portugal.
To be sure, the sheer amount of talent that Latin America's biggest and most populous country will bring to the beautiful game is an advantage, but talent has never been in short supply for Brazil.
That has not translated into Olympic gold, however, and if Brazil emerges victorious it will be the country's first trip to the top podium spot.
Veteran Neymar, who was notably absent from the Copa America competition to ensure that his spot on the Olympic roster, will take one of the country's overage slots to lead this year's squad.
It will be hoping to overcome a heart-breaking 2012 loss to title-defender Mexico.
Mexico recently demonstrated its prowess on the pitch, winning the CONCACAF Men's Olympic Qualifying Championship. Honduras, who was defeated in the final match, will also be heading to Rio.
Argentina's national team took a blow when Manuel Lanzini pulled out of the competition because of a knee injury. Cristian Pavon will replace him.
Beyond Latin America, there's a myriad of competitors from Europe, and often overlooked Asia and Africa.
Son Heung-min, the 24 year-old winger, will highlight South Korea's national squad. The country won bronze in London in 2012, and will be hoping to again medal in Rio.
Yuya Kubo will lead Japan in what's shaping up to be a difficult grouping that includes Colombia, Nigeria and Sweden.
Nigeria will be able to count on the talents of Chelsea midfielder John Obi Mikel, 29, who will captain the national team.
Meanwhile, Germany has center back Matthias Ginter, who helped lead the national team to victory in the 2014 World Cup in Brazil, and Lars and Sven Bender, who were absent for the international tournament.
The gold medal match will be held Aug. 20 at the famed Maracana. The Bronze match will be held the same day at Mineirao in Belo Horizonte.
Football is the only sport that will feature play outside of Rio. Competition will also take place in São Paulo, Salvador, Brasilia and Belo Horizonte.
Sixteen teams will compete on the men's side and 12 will take the pitch for the women.
On the women's side, Team USA is going in as the heavy favorite led by forward Alex Morgan and co-captain Carli Lloyd.
Goalkeeper phenom Hope Solo will be returning in hopes of taking home her third straight Olympic gold, and midfielder Megan Rapinoe will compete after quickly recovering from a torn ACL.
Youngblood Crystal Dunn, who was left off the World Cup roster, will be hoping to bring her formidable offense to the games as well.
The U.S. has taken home Olympic gold in four straight competitions.
It is grouped with third ranked France, number 17 New Zealand, and 24th ranked Colombia.
Eighth ranked Brazil is hoping to make a strong showing for the top medal. Marta, who took home five consecutive world player of the year awards from 2006 to 2010, will lead Brazil as it seeks to edge out the U.S.
Brazil lost two consecutive finals matches to the U.S. in 2004 and 2008, and failed to medal in London.
The women's competition will begin Aug. 3.