Egypt court adds ex-footballer to 'terror list'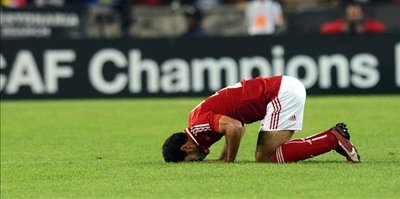 Mohamed Aboutrika drew ire of Egypt's al-Sisi regime by failing to voice adequate support for 2013 military coup
An Egyptian court has added popular ex-footballer Mohamed Aboutrika to its "terrorist list" -- which already includes more than 1,500 people -- for a three-year period.
Under Egypt's 2015 "terrorist organizations" law, those whose names have been put on the list cannot travel abroad while their financial assets have been frozen by the authorities.
The "terrorist list" also includes Mohamed Morsi, Egypt's first democratically elected president -- who has remained in jail since a 2013 military coup -- along with other leaders of Morsi's outlawed Muslim Brotherhood group.
Aboutrika, whose critics accuse him of having failed to support the coup against Morsi, currently resides in Qatar.
It is widely believed he would face arrest in the event he returned to the country.
The decision to add the former footballer's name to the list comes within the context of a 2014 lawsuit that called for the Brotherhood to be designated a "terrorist group".
"Investigations have shown that those individuals placed on the list have committed crimes, such as arming and training [Muslim Brotherhood] members and preparing them to carry out terrorist operations," the court declared in a Wednesday statement.
"Those included on the list have also been convicted of spreading false news and rumors," the statement added.
Lawyers for individuals recently put on the list plan to appeal the move before a higher court.
Egypt has been wracked by turmoil since the military ousted Morsi, a leading Brotherhood member, in a bloody coup in mid-2013.
Since then, the Egyptian authorities have waged a relentless crackdown on Morsi's supporters and Brotherhood members, killing hundreds and throwing tens of thousands behind bars.
In late 2013, Egypt's military-backed authorities outlawed the Brotherhood outright, designating it a "terrorist organization".