German investigators probe Dortmund bomb 'claims'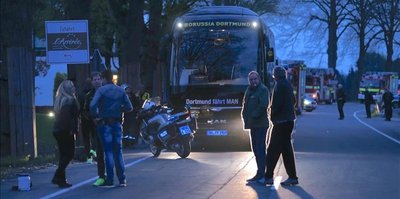 One suspect arrested but motive remains unclear following 3 explosions which hit Borussia Dortmund footballers' team bus
German police have arrested one suspect in connection with Tuesday's bomb attack that targeted the team bus of Borussia Dortmund football club, officials said on Wednesday.
A Federal Public Prosecutor's Office spokeswoman told a news conference in Karlsruhe the security forces searched addresses belonging to two suspects and provisionally arrested one individual.
"Now we will examine whether or not we will apply for a detention order against this person," spokesperson Frauke Koehler said.
Three small explosions hit the Borussia Dortmund transport on Tuesday night, hours before a Champions League quarter-final in the northwestern city.
Koehler confirmed police found a letter near the scene of the explosion claiming responsibility for the attack, and said experts were still examining its authenticity.
German media reported earlier that the letter, written in German, protested Berlin's support for the global coalition fighting Daesh in northern Syria and Iraq, claiming that German Tornado jets were involved in the killing of Muslims in areas controlled by the terror group.
It was also reported that it demanded an end to the deployment of German warplanes to the region and also called for the closure of the Ramstein Air Base in southwestern Germany.
Following Tuesday's attack, another letter circulated online apparently linked a far-left group to the blasts.
Koehler said the authorities had not yet verified this second letter.
"Based on an initial assessment, considerable doubts remain on this claim of responsibility," she said.
Dortmund player Marc Bartra was slightly injured in the attack, and Tuesday's match between Borussia Dortmund and Monaco was rescheduled for Wednesday.