Juventus win 2-0 in Monaco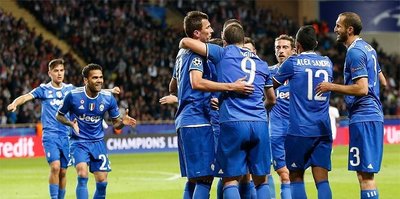 Italian side with major advantage as no team has ever come back from two down in semi-finals
Juventus defeated Monaco 2-0 in the first leg of a UEFA Champions League semi-final matchup at Stade Louis II on Wednesday evening.
Juventus' goals came from clinical Argentinian striker Gonzalo Higuain, both assisted by Brazilian left-back Dani Alves.
Higuain's shot in 28' gave Juventus the lead in the first half. Legendary goalkeeper Gianluigi Buffon was on top form, making two critical saves on Monaco youngster Kylian Mbappe's attempts.
Higuain took the stage again in 58', netting a sliding shot following a Dani Alves cross after Monaco lost the ball in their half, handing Juventus the opportunity for a devastating counter-attack.
Juventus now have a major advantage as no semi-finalist team has ever made a comeback from 2-0 down at home after the first leg.
The Italian team's defense made no mistakes once again. The team has not conceded a Champions League goal in 621 minutes.
The second leg of the match-up will be played in Juventus stadium on May 9.
In the other semi-final match-up, Real Madrid defeated city rivals Atletico Madrid 3-0 on Tuesday evening, thanks to a hat-trick from Cristiano Ronaldo.