Juventus reach Champions League final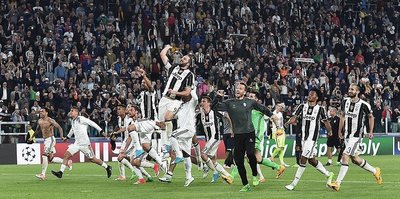 'Bianconeri' see off young Monaco side after beating them 2-1 in Turin
Juventus reached the UEFA Champions League Final for the second time in the past three years after beating Monaco 2-1 at home late Tuesday.
The match in Juventus' home turf in Turin saw a dominant 'Bianconeri' in the first half, as Mario Mandzukic and Dani Alves put their team 2-0 up in the first 45 minutes.
Although Juventus had not conceded a single Champions League goal in 621 minutes, Monaco got very close breaking the streak just 4 minutes into the match, when youngster Kylian Mbappe's shot came back off the upright.
Before scoring, Juventus wasted two clear opportunities -- one with striker Gonzalo Higuain and then a Mandzukic effort saved by goalie Danijel Subasic.
However, Mandzukic was clinical in the 33rd minute as his second attempt to beat Subasic was enough to put his team up 1-0. He was assisted by Alves, his third assist in Juventus' last three goals.
The Brazilian right back was magical at 44th minute, when he struck a superb volley on the follow-up from a cleared corner.
In the second half, Monaco was more effective, cutting the Juventus lead to one in the 69th minute when Mbappe beat Gianluigi Buffon, who had not conceded in the last 690 minutes.
Juventus advanced on a 4-1 aggregate, set to face either Real Madrid or Atletico Madrid on June 3 at Cardiff's Millennium Stadium.