Toronto wins Major League Soccer Cup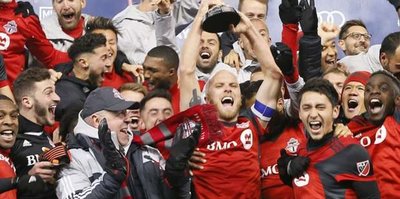 First Canadian team to take title, defeating Seattle 2-0
Toronto FC became the first Canadian team to win the Major League Soccer (MLS) Cup championship Saturday with a 2-0 win over the Seattle Sounders.
Jozy Altidore scored what would prove to be the winning goal in the 67th minute and a stoppage-time goal by Victor Vazquez sealed the win before 30,584 cheering fans at the BMO field in Toronto.
Altidore's performance earned him the game's most valuable player (MVP) honors. "This is the greatest city in the world," Altidore said as he accepted his award on the field. With the crowd chanting "Jozy, Jozy," he added, "This is for you guys, we love you guys."
The champions share US$275,000, while the losers split $80,000.
While that amount pales beside what star players earn – Toronto FC striker Sebastian Giovinco's annual salary is US$7.115 million – this is welcome to players who receive the minimum salary of US$65,000.
The Cup win was sweet revenge – Seattle was last year's Cup winner, defeating Toronto in a shootout.
The 22-team league is the highest level of soccer played in both the United States and Canada.