Terim expects official offer from Bosnia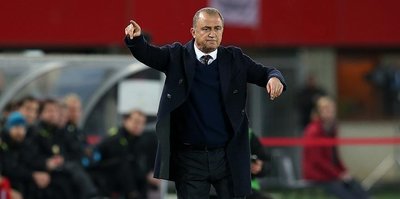 Ex-Galatasaray player gives out details about former club and Turkey manager Fatih Terim's next possible journey
Ex-Turkey and Galatasaray manager Fatih Terim may start another journey in Bosnia, where he expects an offer to coach the national football team.
According to a former Galatasaray player, Tarik Hodzic, Terim is expecting an official offer from the Bosnia-Herzegovina Football Federation.
Speaking to Anadolu Agency, Hodzic said he talked to some of Terim's representatives, who gave out some details about recent development in Terim's career.
Hodzic said the 64-year-old manager's representatives "requested an official offer from the Bosnian football federation".
"Terim will quickly decide upon the offer," Hodzic said. "I also talked to Sead Kajtaz, an official in the Bosnian football federation who handles negotiations with managers. I also told him that an official offer is expected."
The Bosnian football federation will hold a meeting on Dec. 22 to make an offer to their managerial candidate.
Fatih Terim first became the manager of Turkey's national football team in 1993. He managed to take the team to Euro '96, but the side was eliminated in the group stage without scoring a single goal in three matches.
Terim then managed Galatasaray between 1996 and 2000. They won the UEFA Cup (ex-Europa League) in 2000.
Terim's second spell with the Turkish national team was between 2005 and 2009. Turkey not only qualified for the Euro 2008 championship, but finished the tournament in third place.
His third spell as Turkey manager started in 2013, but the national team failed to make an impression in Euro 2016 and failed to qualify for the 2018 World Cup.
He parted his ways with Turkish Football Federation in July, with four matches left to be played in World Cup qualifiers.
Under Terim, Turkey won 68 matches, drew 32 times and lost 32.