Turkey's sports people vote in Anadolu Agency's photo contest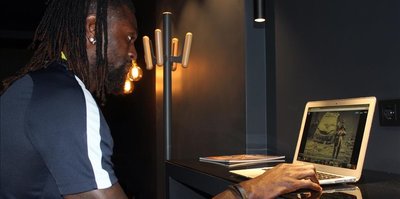 International football stars including Eto'o, Adebayor, Love also make their picks
Turkish sports people as well as international stars have cast their votes in Anadolu Agency Photos of the Year 2017 competition.
International football stars, including Samuel Eto'o of Antalyaspor, Emmanuel Adebayor of Medipol Basaksehir and Vagner Love of Alanyaspor, also made their picks among the 68 selected photos.
Cameroonian Eto'o picked 'Violation of cease-fire in Syria' by Diaa Al Din in news category and Ali Ihsan Ozturk's 'Journey of Sheep' in life category.
The experienced goal scorer chose in sports category a photo by Isa Terli, named 'Little Besiktas Fan'.
Alanyaspor's Brazilian goal scorer Vagner Love chose Mostafa Alkharouf's 'Isha prayer on the street' in news category. The photo depicts a young Palestinian man performing the night prayer on a street while Israeli security forces look on, demonstrating the Palestinian people's resistance to Israeli police, which put security structures near the entrances of Al-Aqsa Mosque.
In sports category, Love selected Abdullah Coskun's photo titled 'Turkey's joy', showing a Turkish amputee footballer in celebration after his side beat England 2-1 to become European Champions.
Istanbul club Medipol Basaksehir's Togolese striker Emmanuel Adebayor also picked photos in the competition.
'Turkey's joy'
Adebayor's news category pick was the same with Eto'o, while he also picked the photo of the Turkish amputee footballer doing a headstand using his crutches.
Turkish players such as Burak Yilmaz and Emre Belozoglu also participated in the voting.
Football club chairmen -- including Galatasaray's Dursun Ozbek, Besiktas' Fikret Orman, Fenerbahce's Aziz Yildirim, Medipol Basaksehir's Goksel Gumusdag, Trabzonspor's Muharrem Usta and Bursaspor's Ali Ay -- also cast their votes.
Turkey's national football team manager Mircea Lucescu, and football club managers -- such as Galatasaray's newly appointed Fatih Terim, Fenerbahce's Aykut Kocaman, Bursaspor's Paul Le Guen, Trabzonspor's Riza Calimbay and Basaksehir's Abdullah Avci -- also picked their favorites among the 68 competing photos.
Turkish national amputee football team players, Baris Telli and skipper Osman Cakmak -- who scored the winning goal against England -- also participated in the vote.
Cakmak voted for 'Turkey's Joy' in sports category, while he picked 'Love for Erdogan' by Kayhan Ozer in the news category. In the photo, Erdogan poses with a little girl in his arms during an October visit to Nova Pazar, Serbia.
Wrestling champions also voted
Riza Kayaalp, a Turkish wrestler with World and European championships, picked Wisam Hashlamoun's photo of Fawzi Al-Juneidi, a 16-year-old Palestinian teen who was detained on Dec. 7 during clashes in the West Bank city of Hebron (Al-Khalil) and dragged away blindfolded by dozens of Israeli soldiers.
Al-Juneidi has since become the symbol of ongoing protests against U.S. President Donald Trump's decision to recognize Jerusalem as Israel's capital.
Taha Akgul, another Turkish wrestler who won Olympic, World and European championships, voted for the photo of the amputee footballer.
Turkey's Sports Minister Osman Askin Bak also picked the photo of the Palestinian boy in news category.
Turkish Basketball Federation chairman and ex-NBA player Hidayet Turkoglu, World champion Turkish motorcyclist Kenan Sofuoglu and 200-meter world champion sprinter Ramil Guliyev also voted in the competition.
Anadolu Agency's Photos of the Year competition was first held in 2012. This year, 68 images selected from over 750,000 photographs shot in different parts of the world were put to a vote in news, life and sports categories with Turkish and English captions.
Last year, 165,000 people participated in the voting.
This year's voting will continue till Dec. 31 at photovideorate.aa.com.tr.