Sow signs with Bursaspor on loan deal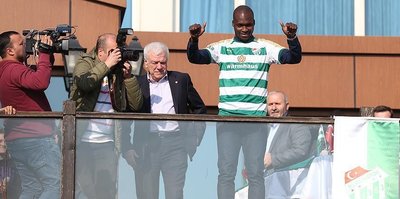 6-month deal with Al-Ahli Dubai to keep Sow in Turkey for remainder of season
Senegalese striker Moussa Sow signed with Bursaspor on a 6-month loan deal on Monday.
A signing ceremony was held at the club's training ground, where Sow was introduced to Bursaspor fans.
"I hope I can bring Bursaspor a new hope. I am very happy to wear this uniform. It is important for me to contribute to the team's performance," Sow said at a news conference.
Ali Ay, the club chairman, said he and manager Paul Le Guen wanted this transfer to happen.
"I wish Sow performs well in this 6 months so that we can continue with him. We remember him with his overhead kick goals. I hope he scores similar goals for Bursaspor too," he added.
Sow was transferred to Fenerbahce in January 2012 from Lig 1 club Lille for a fee of €12 million ($14.7 million). In 2015, he was transferred to United Arab Emirates club Al-Ahli.
After a short loan spell with Fenerbahce in June 2017, he was sold to Al-Ahli Dubai in October 2017.